Enniskillen bomb: Church formally rejects memorial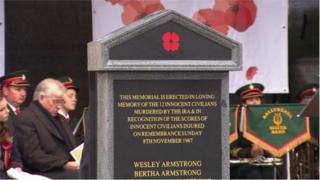 A memorial to the victims of an IRA bomb on Remembrance Sunday 1987 has been formally rejected by a Catholic Church trust.
Twelve people were killed and 68 others were injured in the bombing in Enniskillen, County Fermanagh.
A memorial was unveiled at an event marking 30 years since the attack.
But it was taken down and put into storage after the diocese which owns the land it was on said it had not been consulted by the council.
St Michael's Diocesan Trust has now formally rejected the proposed memorial.
Some of the families of those who were killed in the bomb say they will meet next week to decide on a way forward.
Monsignor Peter O'Reilly, the parish priest of Enniskillen, said the move was not about rejecting any memorial or the content of the memorial, but this particular memorial and its proposed location.
He told the BBC's Good Morning Ulster programme the trust was open to other proposals.
He said there were access issues with the original memorial, which was to be placed near to the door of the Clinton Centre on Belmore Street.
"The terrible events of November 1987 took place there and that makes it an important place, as such that should never be forgotten," he said.
"There is a commitment on the part of the trust to be involved in a permanent memorial."
In a statement from St Michael's Parish, a spokesman said they were "deeply conscious of the horrific effects and legacy of the Enniskillen Remembrance Day bomb in November 1987.
"Let us be very clear: the trust has no objection to a permanent memorial being erected to the victims of the Enniskillen bombing," a spokesman said.
"The sheer size of the memorial, taken together with the high volume of footfall on the public footpath in front of the Clinton Centre, and the connected issues of access to the school at the side and rear of the building, would make the proposed location unsuitable from the point of view of the health and safety of the public."
Kenny Donaldson, of the South East Fermanagh Foundation, which supports many of the Enniskillen bereaved and injured, said the decision signalled "a failure of leadership".
"How many more insults must the families of the bereaved endure?" he asked.
"Morality must triumph in this circumstance, politics and/or fears of upsetting those involved with, or who continue to excuse, terrorism must cease to be factored into the decision making process."