Man appears in court on firearm offence at by-election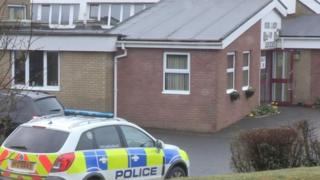 A 59-year-old man has appeared in court charged with carrying a firearm with criminal intent following an incident at a polling station.
Michael O'Hagan has also been charged with possession of a firearm or ammunition in suspicious circumstances.
It follows an incident at Our Lady of Lourdes Primary School on Thursday during the West Tyrone by-election.
Mr O'Hagan appeared at Dungannon Magistrates' Court on Friday.
The court was told he entered the polling station at about 13:00 BST and shouted: "There better be no DUP here or I'll sort them".
'Imminent risk'
It also heard that Mr O'Hagan, from Leaghan Road near Greencastle, is said to have alcohol problems.
He was denied bail as he has not revealed the whereabouts of the alleged weapon.
The judge was told there were no suspected links with dissident groups and Mr O'Hagan has no memory of being at the school.
However, he said the defendant poses a "real and imminent risk", given the unexplained motivation and missing firearm.