Londonderry man was dealing home-made cannabis sweets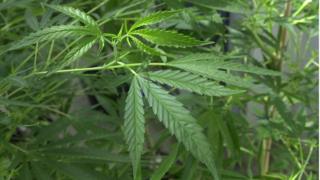 A Londonderry man has been given a suspended sentence for making home-made, chocolate, cannabis sweets.
Seamus Anthony Duddy, of Ardnomoyle Park, said he either sold the sweets for £4 each or gave them away free to friends.
Duddy pleaded guilty at the city's Crown Court to five charges of supplying and possessing cannabis.
The herbal cannabis confectionery was found when the police searched his car and his home on 4 March, 2017.
The court was told the police stopped a car driven by Duddy in the Carnhill area of the city and noticed a strong smell of cannabis.
Duddy was asked if he had drugs and he handed the police several bags of herbal cannabis.
He also gave the police silver foil wraps which contained the 35 drug-infused chocolate sweets as well as £390 in cash.
The police then searched Duddy's home where they found a number of empty clear bags, weighing scales and more herbal cannabis.
In total the police found 70 grams of cannabis.
Medicinal purposes
Duddy told the police he was a regular cannabis user for pain relief purposes because he suffered from a number of ailments. He said half of the 20 people he supplied cannabis to also used it for medicinal purposes.
The judge accepted Duddy was not involved in a criminal operation and that he was an habitual cannabis user for medical reasons, which is illegal.
He said Duddy, who had no previous convictions, was honest about his cannabis use.
Duddy was given a 12 month jail sentence, suspended for two years, while the £390 cash will be donated to an alcohol and drug dependency charity.