Sir Van Morrison takes presenter's seat on Radio Ulster Jazz Club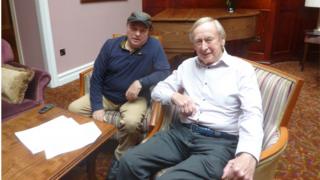 "This is Van Morrison here, so this time the roles are reversed and I'm going to be sitting in for Walter Love."
That's the attention-grabbing opening to Jazz Club this Sunday night on Radio Ulster.
And the programme comes with a further twist, as Sir Van Morrison interviews the programme's long-time presenter.
"This is an unexpected pleasure for me to be sitting on the other side of the table," said Walter Love.
The legendary musician and the veteran broadcaster go on to talk about their shared love of jazz, with many of their favourite tracks also in the mix.
Love reveals he originally developed a love of music due to bouts of illness as a child.
"When I was a youngster I suffered from asthma and because of that I was very often at home," he says.
"I had a radio as a companion and I found jazz programmes."
Sir Van reveals that he discovered music in a similar way, through listening to radio programmes on the American Forces Network.
"My father used to listen to it and that's where I first heard Ray Charles," he recalls.
They go on to talk about - and play - music by Nat King Cole, Les Paul, Billie Holiday and Louis Armstrong, among others.
"Anything Billie Holiday ever did is great," according to Sir Van.
They also discuss Love's initial break into broadcasting, having first worked as an accountant's clerk.
"In 1960, I joined the announcing staff and at that time, the BBC wasn't doing any jazz programmes at all in Northern Ireland," Love recalls.
"So I put forward the idea of doing a programme.
"Eventually, they were putting on late night music programmes and I was given the jazz one, so since 1960, jazz has been my thing on radio."
Jazz festival
Love also helped to found an international jazz festival in Holywood, County Down in the early 80s.
"I called a meeting together of everyone I could think of who was involved in jazz in Belfast," Love tells Sir Van.
"What we tried to do was bring in artists from America, from Europe, as well as a lot of British bands and local talent.
"And that ran for 18 years, but because money was getting tighter and we didn't want to reduce the quality of the festival, we stopped it at that point."
Sir Van then asks if Love sees himself ever organising another festival.
"Not now, I think," Love replies, "leave it to somebody younger!"
Sir Van's questions are brief and to the point, allowing Love to reminisce and share his encyclopaedic knowledge of music and musicians.
Much of the music the pair broadcast is from decades past, but before the programme ends, Sir Van asks Love about the state of jazz music today.
"Is it going somewhere, has it been and went, what do you think it is?" he asks.
'Back to roots'
"It used to be said that there are a hundred definitions of what jazz is, today it's probably ten thousand," Love observes.
"It's like a tree, the branches are growing out all the time."
"Some forms of modern jazz I'm quite happy with, but I still like to go back to the roots and to the 20s and 30s."
By the time he is signing off, Sir Van remembers the presenter's duty to trail ahead to the next programme.
"This is Van Morrison signing off and everybody tune in next week to Walter!" he laughs.
The full interview between Sir Van Morrison and Walter Love airs on Jazz Club on Radio Ulster on Sunday, 6 May at 2100 BST.