Over 50 new jobs created by Maghera joinery firm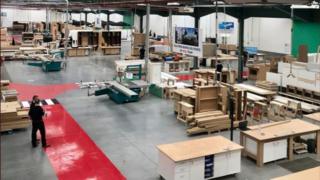 52 new jobs are being created by a manufacturing firm in County Londonderry.
Specialist Joinery Group in Maghera makes fitted furniture for major construction projects like hotels, offices and airports.
It employs 135 people in Mid Ulster and 65 people in London.
It has collaborated with a number of big-name clients like Amazon, Google and Rolls Royce.
With support from Invest NI, the company is investing £5m in its facilities and recruiting craftsmen, quantity surveyors and engineers.
Founder and chairman John Bosco O'Hagan said: "Although we don't do a lot of our work in the Mid Ulster area, we create a lot of employment here.
"Whenever the recession hit in 2007, as opposed to paying off people, we moved to London and Paris - places where it wasn't hitting just as hard," he added.