USPCA rescues farmed puppies shipped from Northern Ireland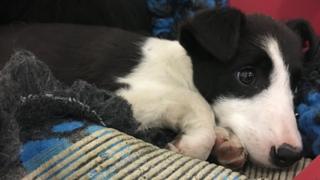 The Ulster Society for the Prevention of Cruelty to Animals (USPCA) has rescued a batch of farmed puppies.
The 27 pups were seized in the Scottish port of Cairnryan early this morning by the police and Scottish Society for the Prevention of Cruelty to Animals (SSPCA).
It is believed the puppies were farmed in the Republic of Ireland.
They were then transported to Northern Ireland in a small van which was driven onto a late-night ferry on Wednesday.
The dogs, mostly collies and spaniels, would have been sold in the UK for up to £15,000, according to the USPCA,
Colleen Tinley of the welfare organisation said the USPCA would work to put a stop to puppy farming.
"This is a criminal act. It's a horrific trade - the puppy farm trade - and we will work with the agencies to disrupt and stop this trade," she said.
They will now be returned to the Republic of Ireland as their country of origin and given into the care of the Irish Society for the Prevention of Cruelty to Animals (ISCPA).
Fighting abuse
The USPCA is the second oldest animal welfare charity in the world.
Founded in 1836, the USPCA was set up to challenge the abuse of working horses, a daily occurrence on the Victorian city streets.
In November 2017, the charity expanded a scheme it runs across Northern Ireland that finds temporary homes for pets from abusive households.