US airline giant to buy up to 30 Bombardier regional jets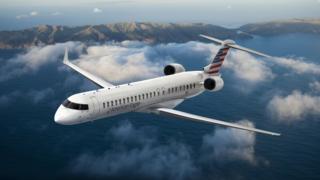 Bombardier, the Canadian aerospace firm, has secured a $719m deal to sell up to 30 of its CRJ900 jets to American Airlines, the aerospace firm has said.
The aircraft's main body, engine casing and wing components for the aircraft are made at the company's Northern Ireland operation.
American Airlines has placed a firm order for 15 of the planes, with an option for another 15.
The deal comes months after the company won its US trade case against Boeing.
The company said the firm order is valued at approximately $719m, based on the list price of the plane.
Soaring profits
The planes will be operated by PSA Airlines, American's regional subsidiary, which already has a fleet of CRJ jets.
The airline intends to take delivery of the first aircraft in the second quarter of 2019.
Fred Cromer, President, Bombardier Commercial Aircraft, said: " We are pleased with American's continued confidence in Bombardier and the CRJ900 aircraft."
The deal was announced as Bombardier reported a 16% rise in its favoured measure of profit.
The company said it made $265m before interest, taxation, depreciation and amortization (EBITDA) in the first quarter, helped by higher orders for its railways division and an improving market for business aircraft.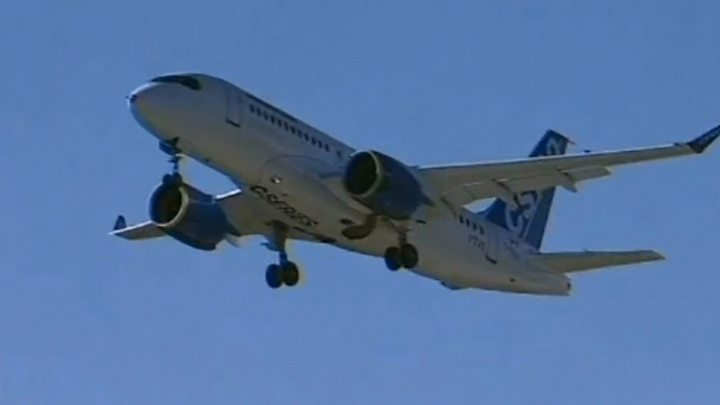 Trade dispute
In January, politicians and union leaders welcomed a ruling which stopped the US imposing huge 292% import tariffs on Bombardier planes.
Over a thousand jobs in Belfast depend on the success of the C-Series passenger jet.
Bombardier had been widely expected to fail in its bid to overturn a ruling by the US Commerce Department in December that the UK and Canada had given it unfair subsidies.
But the case, centred on a complaint by US rival Boeing, was dismissed by the US International Trade Commission (ITC).