Órfhlaith Begley profile: Who is the new West Tyrone MP?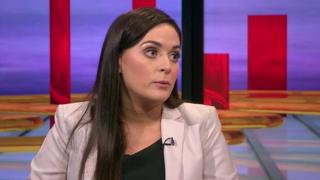 Órfhlaith Begley may be a newcomer to Westminster but her family connection to politics stretches back decades.
Her father, Seán, served 26 years as a Sinn Féin councillor on Omagh District Council and she has been heavily involved in party politics on the ground.
The 26-year-old is a native of Carrickmore, County Tyrone.
She attended Queen's University in Belfast where she studied law with politics.
Since graduating, she has worked as a solicitor in Portadown, County Armagh, along with her brother.
Stronghold
Ms Begley becomes the first woman to hold the West Tyrone seat since the parliamentary constituency was created in 1997, although she may have become an elected representative much sooner than she was expecting.
She was chosen by Sinn Féin to contest the sudden by-election after her colleague, Barry McElduff, stepped down from the role in January after posting a video on Twitter, in which he had a loaf of Kingsmill bread on his head on the anniversary of the Kingsmills massacre.
There was surprise from some political commentators at her nomination, as Ms Begley is a relatively new voice in the realm of Northern Ireland politics.
Sinn Féin's backing for her perhaps pointed to the party's confidence that it would easily retain the seat, despite the controversy caused by Mr McElduff.
West Tyrone has been a Sinn Féin stronghold since 2001, when Pat Doherty first took the seat for the party.
Ms Begley went into the by-election with a majority of more than 10,000 votes to defend, after the party's success in the 2017 general election.
She won the seat comfortably with a majority of 7956. The turnout was 55% - down from 68% in the last Westminster election.
During this campaign, Ms Begley said she was confident that party loyalty would help her to retain the seat and that she knows the main issues affecting people in the West Tyrone constituency.
One of the burning topics on her in-tray will be how she deals with Brexit.
In the EU referendum, nearly 67% of people who voted in West Tyrone backed remain.
Ms Begley brings Sinn Féin's number of MPs back up to seven but she will not be seen making any speeches in the House of Commons.
The party's long-standing policy of abstentionism, in protest against British rule, means that Sinn Féin MPs do not take their seats.