Home nations flick off in Derry Subbuteo tournament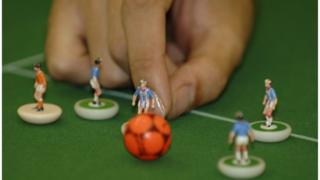 The World Cup is probably the most eagerly anticipated tournament of 2018 unless that is you are one of the finger flicking footie fanatics gathering in Londonderry this weekend.
More than 20 Subbuteo players from across the UK and Ireland will come together to contest an unofficial 'Home Nations' tournament.
Most bring with them skills and technique first nurtured on the kitchen tables of their 1970's and 80's childhoods.
Organisers of the 2018 Derry Open hope the tournament will help revive the table top game's popularity in Ireland's north west.
"We are always looking for new people to get involved," Brendan Rodgers, who is playing for one of two Derry City teams competing this weekend, said.
"The beauty of Subbuteo is that anyone from eight to 80-years old can play.
"You could have three generations playing at the table, not something you get with computer football games like FIFA," he added.
Launched more than 60 years ago, Subbuteo was at the pinnacle of football gaming until it was usurped by console and computer versions of the beautiful game.
The ultimate in lo-tech, the game involves players flicking 11 men at an oversized ball on a rolled-out felt pitch.
At the height of its popularity, more than 300,000 team sets were sold every year as players could not get enough 'Flick to Kick' action.
Subbuteo branched out into rugby, cricket, hockey, angling and baseball games.
But it is football that endured and at the top end of the game, players were - and still are - highly skilled and fiercely competitive.
The first Subbuteo World Cup was held in 1987. One young English player even insured his Subbuteo hand for more than £160,000.
The Derry tournament will see players compete both individually and as teams.
Brendan runs the Donegal Subbuteo club, based just across the border from Derry in the Republic of Ireland.
He is looking forward to this weekend's challenge.
"It'll be a bit of craic but no one will want to let themselves or their team mates down.
"I suppose for most of us who play there's a real nostalgia to it.
"Most of us are of a certain vintage. When I was young football meant everything to me and suddenly I could play as Celtic or Liverpool and play it on a table top," he added.
As the popularity of the game waned in the 1990s, and as "life got in the way," Brendan put the game he loved away in the attic.
"Then one day, years later, I came across a book about Subbuteo in a book shop, went up into the attic and got it out again," he said.
An internet search left him "amazed to see such a global following."
Soon new connections were made, fellow players found locally, across the UK and internationally.
"Now there's 10 or 12 of us who get together to play every fortnight in the Derry City Social Club.
"In places like Italy and Malta it is huge, a national sport. Players in Malta have even been named among the country's top sportsmen," Brendan added.
Enduring appeal
Pete Whitehead, who runs the Subbuteo World website, said the game's been enjoying a boom over recent years and technology has allowed enthusiasts to connect with each other.
"I think without the internet Subbuteo would have just died away.
"While there is a massive interest in football there will always be an interest in Subbuteo," he added.
He said there was huge interest from collectors, those who love the social appeal of a Subbuteo night with their mates, and with modern day parents hoping to entice "their children away from the TV, internet and games consoles."
"They will buy a set and try to have more interaction with their kids and Subbuteo is just perfect for that. It can bring families together and create healthy family competition," he added.
This weekend's tournament flicks off at the Derry City Social Club on Saturday and continues on Sunday.
It's a fitting setting for the tournament given Derry City's own connection with the table top game.
Artwork for Derry's favourite musical sons, pop punk band The Undertones, features a Derry City Subbuteo figure.
The song itself bemoans the titular perfect cousin's superior, albeit sneaky, Subbuteo skills.
Donegal Subbuteo's Brendan hopes anyone who'd love to relive their youth, or is football or Subbuteo mad, will come along this weekend.
"It is open to the public and everyone is welcome, so if you are interested or want to get involved, we'll be more than happy to see you," he added.