Bonfire groups hit out at 'ludicrous' demands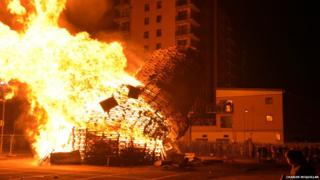 A number of groups have said they will not apply for Belfast City Council Funding for their bonfires because the demands made are "ludicrous".
The Bonfire and Cultural Expression programme offers support for well regulated sites.
However some groups have said it "aims to control culture and tradition".
The council said in a statement applications were encouraged from a "wide range of groups across the city".
Two posts on social media from groups in different parts of the city stated they would not be receiving funding.
In a Facebook post a representative of Cregagh Estate bonfire said volunteers can no longer be part of a programme aimed at "controlling and eradicating the culture and tradition of people in that area".
In a separate statement on Twitter, the Mid Shankill Bonfire group said "pan-nationalism is targeting bonfire groups as part of an ongoing cultural war intent to erode any vestige of Britishness.
They said they will not accept funding from the council as the demands have become "ludicrous."
Ian McLaughlin from the Lower Shankill Community Association told the BBC's Good Morning Ulster programme he understood the concerns.
"I believe there is a sense of mistrust between many of these grassroots community groups and the statutory partners at the table and some political parties.
"We need to rebuild trust and trust is a two-way street.
"I would argue that great progress has been made over the years and clearly for me I would like to build on that success."
'Made toxic'
He added that this year's scheme was late.
"There are a number of factors for that - last year's incidents around bonfires, primarily around east Belfast led to an interval review in the council.
"This meant council couldn't take part or engage in bonfire activities until the result of that.
"We also have a report compiled by unionist politicians which I think is very welcome.
"We have also had a report from the Community Relations council which painted a very bad picture of bonfires.
"An already sensitive issue has been made more toxic by a number of factors."
Voluntary scheme
PUP councillor Dr John Kyle said the scheme had gone from strength to strength but it will never be able to keep everyone happy.
"There will always be people who feel it goes too far, that it places too many restrictions.
"It's a voluntary scheme and for those who want to participate in it. I think most of those groups feel it works well.
"There are probably more bonfires that aren't on the scheme than are on the scheme so it's not a majority.
"Bonfires are controversial.
"By and large my feeling is that although people are concerned that there are more restrictions coming down the road, there are many people like politicians and Council officers who want to work with communities see them being a positive, inclusive time for all the community."
In March, a report group of unionist councillors in Belfast said that a number of controversial bonfires last summer damaged community relations.
However it also found the vast majority of bonfires are not contentious.
In a statement a council spokeswoman said: "Council is currently accepting applications for its Bonfire and Cultural Expression programme for 2018.
"Applications for the programme are encouraged from a wide range of groups across the city. The deadline for applications is 11 May."