Belfast Health Trust's Amsterdam trip costs £85,000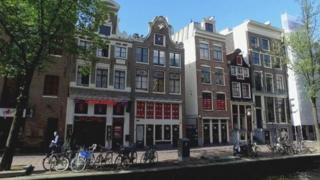 A Northern Ireland health trust has been criticised after sending 61 staff to an international health conference in Amsterdam at a cost of £85,000.
About 100 health workers from NI are attending the International Forum on Quality and Safety in Healthcare.
The Belfast Health Trust, which is sending 61 staff, said it "booked the most cost effective tickets available".
Former public sector union leader, Bumper Graham, said the figure was "exceptionally high".
"In situations like this a small number should attend," he said.
NI Conservative Frank Shivers said the perception would be that it is a "junket".
"Look at the cost of it, it could be done in a hotel in Belfast where you invite those 100-odd people and whatever is specific to their skills could be televised or put on the computer," he told BBC Radio Ulster's Nolan Show.
"There is absolutely no need for so many of them to go across.
"This is the type of thing that gets my goat and the people in Northern Ireland."
The International Forum on Quality and Safety in Healthcare, which runs from Wednesday 2 May to Friday 4 May, is billed as "one of the world's largest conferences for healthcare professionals committed to improving patient care and safety".
A number of the speeches are being streamed online and include topics such as "How to move from fixed to growth mindset" and "Finding and creating joy in work".
The South-Eastern Health Trust sent 17 people to the conference, the Western Health Trust sent 14 people, the Northern Health Trust has sent nine people and three people from the Southern Health Trust are attending. The Department of Health has sent one person
The Department of Health in NI has confirmed that its Permanent Secretary Richard Pengelly wrote to trusts and other health organisations in September 2016, "reminding them of the need for effective and proportionate controls on staff travel".
It said that "having been alerted to plans for the Amsterdam conference, it immediately wrote to trusts and other HSC (Health and Social Care) bodies".
'Add value'
"They were asked for full details of staff numbers attending and the costs involved; and to urgently explain how the planned travel complied with the criteria set out in September 2016," a Department of Health NI spokesperson added.
The Belfast Health Trust said the total cost of £85,000 "covers flights, accommodation and the cost of the conference".
It said the conference would "offer staff a tremendous amount of education, learning and ideas which may be adopted in Belfast to improve how we deliver services to our patients and service users".
The trust said there was a mix of professional groups including doctors, nurses, social workers, managers and directors.
"Several of the party are attending to present their improvement work as their project posters were submitted and selected by IHI (Institute for Healthcare Improvement) to be displayed," it added.
"This investment will significantly add value to the Belfast Trust and will equip staff with skills, ideas and contacts to make improvements to the services we deliver.
"The best performing hospitals worldwide invest in quality and safety leadership training and development including considerable investment in external consultancy.
"This investment is only a fraction of that and is focused on giving our staff the tools they need to improve quality and engage front line staff."