NI newspaper review: 'UVF sniper' and consultant review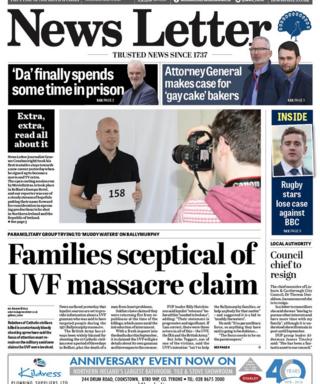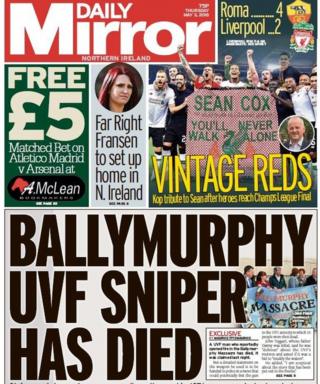 The newspaper front pages are dominated by the news that the Ulster Volunteer Force (UVF) is to provide information to the Ballymurphy killings inquest claiming it was responsible for some of the shootings.
"Veterans" within the loyalist paramilitary organisation have identified a UVF sniper they say carried out a number of the shootings.
The Daily Mirror leads with the claim that the alleged UVF sniper has died, but that details about the weapon he used will be passed to the police.
Along with a number of the other newspapers, it also quotes John Teggart, whose father Daniel was among those shot dead during the incidents in west Belfast in August 1971.
He says he is "dubious" about the UVF's motives and asks if it is a bid to "muddy the waters".
Billy Hutchinson, leader of the Progressive Unionist Party (PUP) has claimed it is a significant move which could help provide clarity about what happened at Ballymurphy.
The Belfast Telegraph's front page follows up on the recall of more than 2,500 neurology patients in Northern Ireland for a case review.
There are concerns some patients may have been misdiagnosed after a review of the work of neurology consultant Dr Michael Watt at the Belfast Health and Social Care Trust.
The Telegraph has an interview with a Belfast woman whose daughter waited over four years for a brain scan while in the care of Dr Watt.
Zoe Scott, was a student nurse with an 18-month-old daughter, when she suffered a stroke in March 2011.
Her mother Amanda says it was not until Zoe collapsed in December 2015 that she underwent a brain scan at the Royal Victoria Hospital in Belfast which indicated she had Moyamoya disease - a rare cerebrovascular disorder, which she says she has been told is terminal.
"Zoe got a letter about being recalled for an appointment yesterday, but it doesn't solve it," she said.
"I am disgusted and heartbroken for my daughter."
The Belfast Health Trust has said it "fully understands" how difficult a time "this is for a large number of our patients and their families".
It said it was "truly sorry" for the anxiety it is causing and its priority "is to ensure all patients are seen as quickly as possible and that patients receive the best possible care".
The News Letter quotes one patient of Dr Watt, Christine Lynch, who says she has "received nothing but the best of care from him since 2004" and will be standing by him.
The Irish News reports that Dr Watt also operated a private practice at the Ulster Independent Clinic and the Hillsborough Private Clinic. The Ulster Independent Clinic has opened a helpline for patients, with the Hillsborough Private Clinic saying its staff would be available to take calls.
The newspaper says Dr Watt is still employed by the Belfast Health Trust but has not seen patients since June 2017. He remains on full pay while the review process is carried out.
Judgement has been reserved in the the so-called 'gay cake' case, after a two-day hearing in Belfast, and there are various reports in the papers.
A different health story involving the Belfast Health Trust makes the Daily Mirror, as it has been asked to justify sending 61 staff to a conference in Amsterdam.
'Overwhelming'
Department of Health Permanent Secretary Richard Pengelly had told trusts in September 2016 of the "need for effective and proportionate controls on staff travel".
The Mirror says the exact cost of the trip has not been made public, but is believed to run into tens of thousands of pounds.
The trust has said the conference this week would "offer examples of the very best practice from providers from around the world".
The Irish News reports that a crowdfunding page set up by an Irish Liverpool FC supporters group for critically ill fan Sean Cox has raised almost £80,000 for the County Meath man and his family.
Mr Cox sustained head injuries when he was attacked before the club's Champions League semi-final first leg against Roma last Tuesday. Liverpool reached the final on Wednesday night.
Mr Cox is a treasurer at St Peter's GAA club in Dunboyne and the club has released a statement on behalf of his family thanking everyone who has sent a "huge number" of messages of support which it said was "overwhelming".