Belfast patient recall: Patients speak out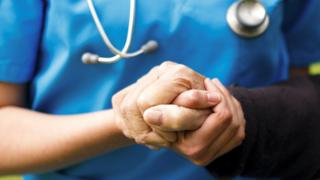 Many neurology patients affected by Northern Ireland's biggest patient recall have expressed shock at NHS concerns over possible misdiagnoses.
However, some ex-patients have come out in support of the neurologist at the centre of the recall, Dr Michael Watt.
More than 2,500 patients are being recalled for checks after a review of medical notes by Belfast Health Trust and the Royal College of Physicians.
Governance of the trust's outpatient services is also to be reviewed.
The review was ordered by the Department of Health and will be carried out by the Regulation and Quality Improvement Authority (RQIA).
An advice line is also operating for those who have been affected by the recall in the Belfast Health Trust - it is 0800 980 1100.
Victor Warrington: 'I really cannot complain'
Victor Warrington, who has MS, had a "hugely positive experience" with Dr Watt.
The Ulster Unionist Party (UUP) East Erne councillor saw Dr Watt privately at the Ulster Clinic in 2015 before attending many of his neurology clinics in the Royal Victoria Hospital.
"Dr Watt was recommended to me as he was apparently the best guy around for MS, so I saw him at the Ulster Clinic and he recommended three different drugs he believed could help with my MS and sent me away to research," he said.
"He allowed me to make the decision myself and there was no comparison once I read up on the different drugs. I took his guidance, and made what I believed was clearly the best choice.
"MS is MS - there is no cure - but the main thing medication can do is to slow down progression.
"Before those drugs, I was continually relapsing but I have noticed an improvement and haven't had a relapse since.
"I really cannot complain about Dr Watt."
Mr Warrington was due to attend an appointment with Dr Watt last July, but it was cancelled.
Maeve Falconer: 'I still don't know what's wrong with me'
For many, misdiagnosis has led to frustration and anger.
Maeve Falconer first met Dr Watt in 2005 when she was referred to a specialist for problems with her balance, her sight and pressures in her head.
Her symptoms developed and last year her GP referred her to see Dr Watt again.
At an appointment in May 2017, he told Ms Falconer she had multiple sclerosis (MS).
But when Ms Falconer was referred to another neurologist, she was told she had been misdiagnosed.
She told BBC News NI's Newsline programme that she has yet to be diagnosed for her ongoing illness.
"I'm just angry that I'm sitting here nearly a year later and I still don't know what's wrong with me," she said.
"I still don't know what the diagnosis."
Rhonda O'Neill: 'Without Dr Watt, I'm very fearful'
Rhonda O'Neill has been a patient of Dr Watt's for seven years. She received a letter informing her that her case would not be recalled.
Ms O'Neill, 44, said despite reports, she thinks Dr Watt is a genius.
She said that since the news broke on Tuesday, patients happy with his treatment have not had a voice.
"I sat in his waiting room for seven years and it's full of people with serious debilitating conditions," she said.
"They all go to see a doctor who welcomes them and knows them. That's been entirely overlooked.
"I would dread to be where I am today without him. He tried many different techniques and treatments."
The married mother-of-two was diagnosed with autonomic neuropathy by Dr Watt: The condition damages nerves that help organs function.
Ms O'Neill visited Dr Watt at his public practice at the Royal Victoria Hospital in Belfast until last year, when she said at the time she was told he was very ill.
She now has to travel to London to the King's College Hospital to receive treatment.
"My condition has been progressing over the last couple of months. Without Dr Watt, I'm very fearful," said Mrs O'Neill, who is from Magherafelt in County Londonderry.