Replacing Portadown's peace lines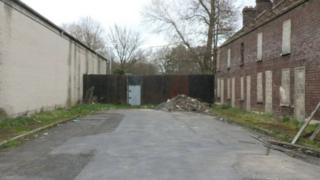 Symbols of division erected in a time of peace.
Portadown's interfaces may not be as well-known as their Belfast equivalents but they are every bit as imposing.
They are also, for the most part, much younger.
This year marks the 20th anniversary of the erection of the first peace lines in Portadown, County Armagh.
These were built in the wake of the Drumcree parading stand-off.
In total, seven interface barriers were erected in the town between 1998 and 2002 - that's after the signing of the Good Friday Agreement.
In 2013, a government commitment, Together Building a United Community (TBUC), pledged to remove all barriers within a decade.
'Change the space'
This presented the challenge of what to replace them with.
Dr Jonny Byrne of Ulster University believes that interface barriers need to be replaced and not just pulled down.
"There is an opportunity here to change the space," he said.
"It is not about removing the structure, but actually about seeing it differently.
"It is about it becoming more-friendly, becoming safer and somewhere that both communities can access.
"So it isn't about a Berlin Wall moment where the walls fundamentally disappear - but changing the landscape to something that all the community can buy in to."
The Department of Justice is responsible for delivering the 2023 TBUC removal commitment.
Michael McAvoy from the department said progress is being made in Portadown.
"One of the interfaces in Portadown has been demolished and is now being replaced by a park and ride facility," he said.
"Another former interface structure is now performing the function of being the perimeter fence for a builder's yard."
The first of these barriers, in the Curran Street-Northway area of the town, was built in 2002.
According to the Belfast Interface Project (BIP), it took the form of "a steel palisade fence, 2.4m high and several hundred metres in length,[that] surrounds a triangular area of open land".
Today it is a building site, but in the coming months it will provide hundreds of parking spaces for the adjacent train station - a facility all sides of the Portadown community will use.
The second of these barriers, another 2.4m high fence, enclosed an area of open land is located opposite the junction of Craigwell Avenue and Corcrain Road.
But facing it is a more imposing structure that BIP say is a, "4.5m high fence of profiled metal sheeting above a 1.5m high masonry wall which runs for 100 metres".
Mr McAvoy conceded that work remains to be done in order to see interfaces such as this removed.
"There are some remaining structures that do serve the purpose of dividing the local community.
"It is our aim to have all structures down by 2023. It is a conversation we are keen to have. We often say that those most affected by interfaces are those we wish to speak to first.
"We are really at the start of that conversation with local elected representatives.
"We tend to talk to them first and then to local community representatives, community groups and anyone who has a legitimate stake in that conversation."