Jackson and Olding agree privacy case with BBC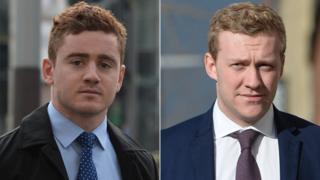 Former Ulster Rugby players Paddy Jackson and Stuart Olding have agreed to the dismissal of a High Court privacy action they took against BBC News NI.
It concerned their arrests for alleged sex offences in 2016.
The pair have agreed to make a contribution to the BBC's costs.
Mr Jackson also accepted judgement against him in another related court action against freelance sports journalist Orla Bannon.
The two players, who were acquitted of rape in a high profile trial that ended in March, were suing BBC NI, which, in October 2016, reported their arrests before charges were made.
The players had argued this constituted a breach of privacy and that the BBC had not followed its guidelines on allowing sufficient time for a right of reply.
'Vindicated'
BBC NI argued that its reporting was factual and in the public interest, given the profile of the two players, the public interest in provincial and international rugby and the nature of the police investigation.
Settlement was agreed at the High Court in Belfast on Wednesday.
The BBC NI Head of News, Kathleen Carragher, said she believed the players' acceptance of the judgement against them "vindicated our journalism".
She added: "We argued throughout this case that our reporting was responsible, accurate, in the public interest and observed the BBC guidelines.
"We are pleased that the players have accepted this outcome and have also agreed a contribution towards our legal costs."
Following the trial, Ulster Rugby revoked the contracts of the two players, and it is understood they are in current negotiations to join a Manchester club.