Belfast patient recall: RQIA review outpatient services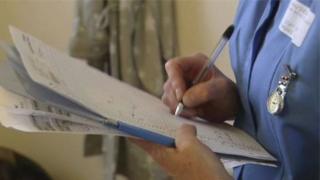 The Department of Health (DH) has said it will review governance of outpatient services in the Belfast Health and Social Care (HSC) Trust with a "particular focus" on neurology.
The news comes after it emerged 2,500 neurology patients in Northern Ireland are being recalled for a case review.
It comes amid concerns that some patients may have been misdiagnosed.
It follows a review of the work of neurology consultant Dr Michael Watt.
The Department said it had directed the Regulation and Quality Improvement Authority (RQIA) to undertake the review.
It said it would be part of its rolling programme of inspections to cover all five HSC Trusts in Northern Ireland.
An advice line is also operating for those who have been affected in the Belfast Health Trust - it is 0800 980 1100.
He also operated a private practice at the Ulster Independent Clinic and the Hillsborough Private Clinic.
The Ulster Independent Clinic said its helpline is open from 09:00 BST - the number is 028 9068 6511.
The Hillsborough Private Clinic said its staff would be available to take calls on 02892688899.
Neurology is the treatment of brain conditions including multiple sclerosis, Parkinson's Disease, stroke and motor neurone disease.
In a statement, Department of Health Permanent Secretary Richard Pengelly said he had also asked the RQIA to commission work to ensure that the records of all patients or former patients of Dr Watt who have died over the past ten years are subject to expert review.
"We will also be reviewing how this whole process has been handled since the Belfast Trust first became aware of concerns about Dr Watt's practice," he added.
Patients being recalled should have received a letter by post on Tuesday. It will include details about how to make an appointment.
---
Lynn Millar, a Trust patient, has multiple sclerosis (MS). She told BBC's Good Morning Ulster programme she was "in shock" when she received her letter.
"The first thing you think is: have I been misdiagnosed? For MS sufferers, worry and stress are big triggers. It took me two years to get a diagnosis.
"I'm lucky my appointment is in two weeks but I know people whose appointments aren't until the end of June, which is a long time to worry.
"I have had three relapses in a year - that would be a sign that the medication I'm on isn't working.
"I'm hoping when I go to my appointment, they'll say 'Your diagnosis is correct'".
---
The Ulster Independent Clinic said that Dr Watt operated a private practice at the clinic but he voluntarily suspended it in June 2017.
"Late last evening we were made aware of the completion of the review, commissioned by the Belfast Health and Social Care Trust, undertaken by the Royal College of Physicians into Dr Watt's clinical practice.
"When this is made available to us we will immediately consider the report to fully understand the type and extent of the concerns raised."
It added: "We would like to reassure all Dr Watt's patients, potentially impacted by this issue, that we are moving as quickly as possible to address any concerns they may have."
Are you one of the patients being recalled for a case review? Email haveyoursay@bbc.co.uk.
Please include a contact number if you are willing to speak to a BBC journalist. You can also contact us in the following ways:
WhatsApp: +44 7555 173285
Tweet: @BBC_HaveYourSay
Text an SMS or MMS to 61124 or +44 7624 800 100