Terrorism victims pension bill in Commons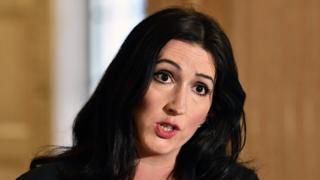 A Northern Ireland MP will introduce a bill at Westminster later that proposes a pension for those severely injured in terrorism attacks.
The bill will be presented by Democratic Unionist Party (MP) Emma Little-Pengelly.
The Victims of Terrorism (Pensions and Other Support) Bill also proposes the government sets up a review of support available to victims.
Campaigners have previously called for a pension for victims of the Troubles.
On Twitter, Mrs Little-Pengelly said she was presenting the bill with cross-party support.
"One year on from the Manchester Arena terrorist attack, I am presenting a bill tomorrow in Westminster calling for a comprehensive review of support for all victims and survivors of terrorism across the United Kingdom, including enhanced mental health and trauma support and injured pension," she wrote.
"The UK should and must be a global leader in our support for our victims of terrorism."
In 2016, the Wave Trauma Centre urged politicians and church leaders to back a pension for those severely injured through "no fault of their own" during the conflict.
The group is believed to number about 500 people who were so badly injured they were unable to work and could not build up pensions.
Judith Thompson, the commissioner for victims and survivors in Northern Ireland, backed the call in 2016 and said the conditional figure for those in Northern Ireland "would be around £2m a year".
Paramilitaries pension access
It has been argued that former paramilitaries could be eligibile for such a pension if it were to be introducted.
It is thought 10 former paramilitaries fall into this category and more could come forward.
She told Good Morning Ulster that the amount proposed was moderate and achievable.
"People are looking at £4,000 or £5,000 a year per person in addition to benefits. This is not something that is difficult to do."
She said the conditional figure "would be around £2m a year".
It is argued that former paramilitaries may be eligible to get such a pension if their injuries are serious enough.
It is thought 10 former paramilitaries fall into this category. More could come forward if the pension scheme goes ahead.