Irish border: David Davis plays down breakthrough hopes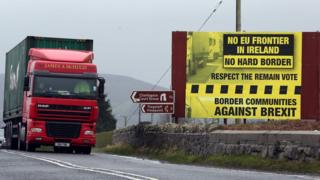 David Davis says the lack of devolution in Northern Ireland is making solving the border issue "much more difficult".
The Brexit Secretary told the Lords EU committee: "Some of the solutions we have in mind are really only doable by the Northern Ireland Executive, not by the UK government."
He did not elaborate on what those solutions may be.
The UK and EU have agreed there will be no hardening of the Irish border but are at odds on how to achieve that.
The Brexit Secretary has again played down the prospect of a breakthrough on the Irish border issue by the time of an EU summit next month.
David Davis told the Lords EU committee he was "not at all sure" there will be agreement on the 'border backstop' by June.
The UK has accepted the need for a backstop to be part of the Brexit withdrawal agreement, in case the border issue cannot be solved in the context of a wider deal.
The EU's backstop proposal, which would mean Northern Ireland staying in the customs union and much of the single market, has been rejected by the UK.
Mr Davis said his officials are still working on a UK version of the backstop.
On Monday the EU's chief negotiator Michel Barnier again warned that there will be no withdrawal agreement without the backstop.
Mr Davis also suggested that by October it could be possible to get a clear sense of the sort of trade deal which the UK and EU will do, which would make the backstop less important.
On Monday the Irish Foreign Minister, Simon Coveney, said it will take 18 months to two years to negotiate a future relationship agreement meaning it is "very important that we have this backstop as an insurance mechanism."