De La Salle College governors quit as principal returns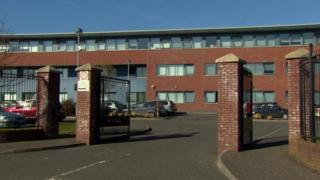 Three members of the board of governors at De La Salle College in west Belfast have resigned.
Their decision came after the announcement that the principal is to resume her role there after two years.
Claire White had been on paid leave from the school, which has been involved in a series of controversies since May 2016.
De La Salle's remaining governors said they regretted the resignations of the three board members.
In a letter to parents on Friday the chairwoman of the board, Monica Culbert, wrote that governors were "in agreement that it is now the right time for Mrs White to return as principal".
"Mrs White has the full support of the board of governors in returning to her post as principal of our college and we are confident in her ability to lead the staff as we continue our journey of improvement."
'In pupils' best interests'
But BBC News NI has learned that governors Michael Collins, Michael O'Hara and Nuala McCabe have subsequently resigned.
None would comment on the reasons for their resignation.
However Mr Collins, who has been a member of the board of governors at the school for almost two decades and is a past pupil, did give BBC News NI a short statement.
"Regrettably, I do not feel that the decision taken is in the best interests of pupils," he said.
In a statement on behalf of the remaining governors, Ms Culbert said that they regretted the resignations.
"We are grateful to the members for their service to the college and wish them well," she added.
"The Board will be reconstituted in the coming months and will continue to support the work of the principal, senior leadership team and staff in the best interests of the pupils and the college community."
De La Salle is a large post-primary school in west Belfast with around 1100 pupils.
Problems at the school first came to light after BBC News NI revealed that about a third of staff had been absent from the school on one day.
Parents held protests over the absences and a subsequent report commissioned by the then Education Minister John O'Dowd found that staff disputes had affected pupils.
A later inspection also criticised some safeguarding arrangements at De La Salle.