Call for Northern Ireland farming plan to be published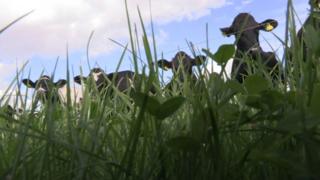 There has been a call for officials to publish a proposed policy on the future of farming in Northern Ireland.
The document has been worked up after months of consultation involving farmers and environmentalists.
It looks at a range of issues including a possible replacement for EU subsidies.
Amongst the ideas is a guaranteed minimum income payment.
It has emerged that the policy paper suggests that it would be set at a level "significantly below" that currently available from EU farm payments.
But it's expected farmers would then be able to top it up by participating in agri-environment schemes to deliver things like better water quality and biodiversity.
The department is reluctant to release the document because it needs ministerial approval for any final policy decisions.
The Ulster Farmers' Union has been involved in the discussions.
Its president Ivor Ferguson said he could not be drawn on the detail of the paper.
But he said future financial support should be directed at those actually working the land, rather than rewarding landowners who simply lease it out.
Nature Matters NI - an umbrella body for a range of environmental groups - has also been consulted.
Spokesman John Martin said they believed it was now in the public interest that the policy proposals were put out to public consultation, despite the absence of a devolved agriculture minister.
He said a recent decision to do just that with a marine plan for Northern Ireland had created a precedent - and it should be repeated with the agriculture proposals.
"It's really important that this is out and members of the public see this so that farmers and the agriculture industry can start to plan for the future outside of the EU," he said.