Senior PSNI officers cleared by police ombudsman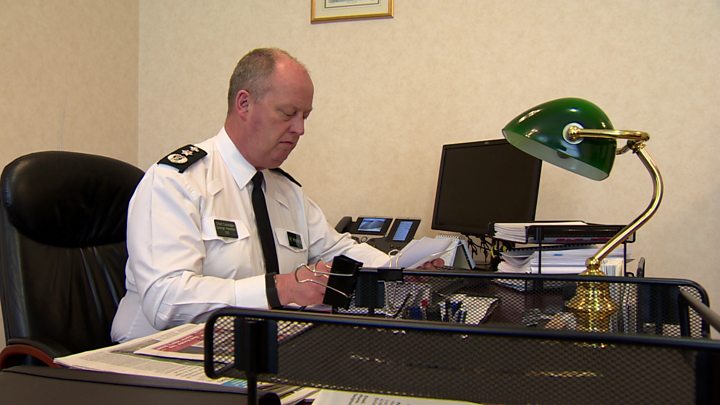 Northern Ireland's two most senior police officers have been cleared of allegations of criminal activity and misconduct in public office.
Chief Constable George Hamilton and his deputy Drew Harris were investigated by the police ombudsman.
It followed complaints over the conduct of a bribery inquiry by the PSNI.
Assistant Chief Constable Mark Hamilton and a number of other officers have also been cleared of all allegations against them.
The ombudsman also said the PSNI bribery investigation was justified and necessary.
Mr Hamilton told the BBC he was "relieved but not surprised" by the findings.
"I had confidence in our actions, that we had acted with integrity, that the original investigation into these bribery and corruption issues was done professionally, was done to high investigative standards, and that has been borne out in the police ombudsman's report," the chief constable added.
"The investigation into 56 allegations against senior officers has fully exonerated every officer on every allegation.
"Fifty-six allegations made, not one of them upheld. No recommendations for any criminal or misconduct proceedings. Our actions have been completely vindicated and we have been exonerated."
The ombudsman examined how the PSNI investigated allegations of bribery and fraud in the awarding of contracts for police vehicles worth around £15m.
None of those questioned as part of that inquiry nearly four years ago faced any charges. Seven of them later complained to the police ombudsman, Dr Michael Maguire.
"The allegations concerned the conduct of many of the most senior officers delivering policing in Northern Ireland and it was essential they be investigated," Dr Maguire said.
Most of the complaints were made by retired PSNI assistant chief constable Duncan McCausland, who was arrested and questioned for three days, and former chief constable of West Yorkshire Police Mark Gilmore, who was also questioned.
The allegations included claims that:
PSNI officers were directed to change entries in their notebooks and journals;
Officers lied to magistrates to get court warrants;
A police inspector was ordered to ask a court for more time to question a suspect despite there being no evidence against them;
Police inappropriately used covert methods.
Fourteen serving or former PSNI officers were investigated.
They were accused of criminality that could amount to trying to pervert the course of justice.
In a statement, the police ombudsman said his inquiry had found "no evidence the PSNI chief constable, members of his senior management team and other named police officers, were involved in criminality or misconduct".
Dr Maguire also said the PSNI's investigation into the awarding of contracts was justified.
"It was prompted by information police had received which gave them sufficient suspicion criminal offences may have been committed," he said.
"They could not have ignored this: had they done so, they would have failed in their duty. The methods used were proportionate to the offences under investigation.
"The public can also be assured that the investigation found no evidence to support any misconduct on the part of the senior officers serving within the PSNI or in relation to the appointed Senior Investigating Officer against whom many of the allegations were made."
The statement said investigators interviewed more than 30 witnesses and carried out a number of searches of PSNI property.
Those interviewed included judges who were asked about allegations that police officers "lied and exaggerated in order to get search warrants".
"Investigators spoke to the two magistrates who issued the warrants and established that the information provided was in line with the material held by police at the time," Dr Maguire said.
'Full exoneration'
In a statement, the chief constable welcomed the "full exoneration" of those investigated.
"The ombudsman has reported that he is entirely satisfied that the original investigation was necessary, intelligence and evidence-led, lawful and proportionate," he said.
"For the public to have confidence in their police service, it is important that all officers at every rank can be held to account. We co-operated fully with the ombudsman and let due process run its course."
Ombudsman investigators did find evidence that a detective sergeant misled one of the suspects during an interview. They recommended that the officer was disciplined, but she has since retired.
The findings have been sent to the Policing Board.