NI broadband: 50,000 with no basic service, says Ofcom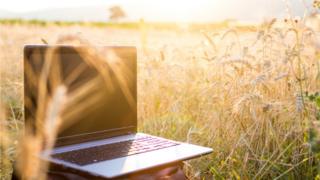 Broadband coverage in Northern Ireland is improving, according to fresh data from telecommunications regulator Ofcom.
However 7% or 50,500 premises are still unable to access the most basic service.
In percentage terms, it is the highest of any UK region.
Most of the properties are in rural areas, with the Fermanagh and Omagh council area the worst impacted, followed by Mid-Ulster.
Northern Ireland is gearing up for a £150m investment package to help address the issue.
The cash is part of the DUP deal keeping the Conservative Party in power, but the project is still in the planning stages.
According to Ofcom, the number of properties unable to access basic broadband fell by 5,100 between last May and this January.
An estimated 100,000 properties in Northern Ireland do not have access to superfast broadband, which gives download speeds of 30Mbit/s.
In its 2016 programme for government, the last Stormont executive set an objective to improve on this.
At the other end of the spectrum, ultrafast broadband, defined as giving download speeds of 300Mbit/s, is available to 84% of properties in Belfast and 55% in Derry and Strabane.
Political parties and others are soon to be consulted by the Department for the Economy on the way forward.