Weekly papers: Priceless present and supermarket fears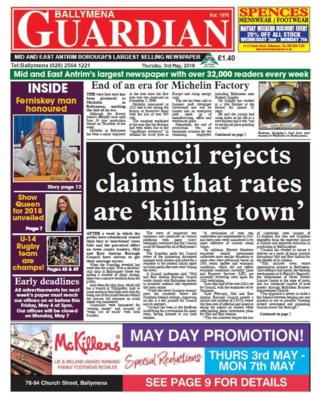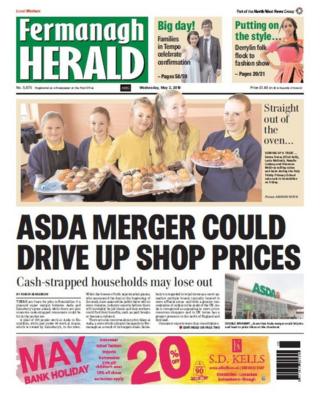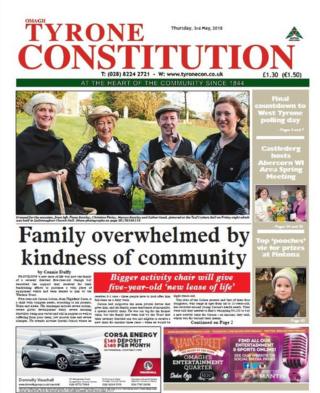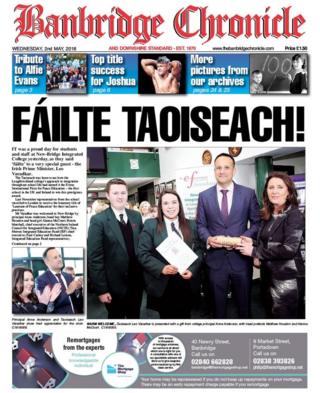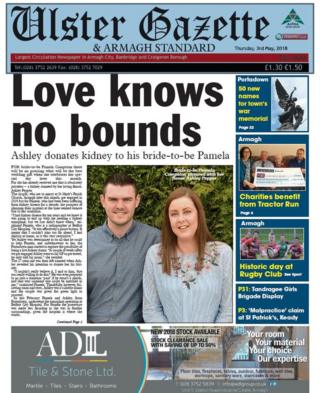 Let's start with a good news story.
The Ulster Gazette has a heart-warming front page about a Portadown couple and a wedding present with a difference.
Bride-to-be Pamela Compston received a kidney from her fiance Ashley Pepper last year and the pair are set to make another match next month.
Ms Compston, a 27-year-old radiographer who had suffered from kidney disease for a decade, said: "There are not really any words you can say to someone who has given you a priceless present."
From one remarkable story to another - the paper also reports on the life and times of Dr Isobel Tate, whose name will be added to the Portadown War Memorial.
Councillor Julie Flaherty said it was "necessary and fitting" that 50 Portadown people, who lost their lives in World War I but had been absent from the town's memorial, were finally going to be recognised.
Dr Tate's story particularly resonated with her, she added.
"She was an extraordinary woman, born in the same town as myself, a Methodist like myself, a graduate of Queen's University like myself but who served her whole career as a medic only to die at the same age as myself," said Ms Flaherty.
Dr Tate's career took her to Dublin initially and then northern England, before she joined the war effort in Malta and Serbia. She died in January 1917 in Malta, having contracted typhoid fever.
The Ballymena Guardian has a story about business rates on its front page. It says the council has rejected claims that "exorbitant bills are killing the town".
It follows a social media backlash from traders and the public, the paper reports, after the "iconic" Fish n chickinn in Ballymoney Street announced it was shutting up shop.
Mid and East Antrim Borough council said that while the town's business vacancy rates were currently below the NI average, improving it was a "key priority".
It's also the "end of an era" for the Michelin Factory as the very last tyre has been produced at the factory in Ballymena.
The firm, which announced it was closing the Raceview Road site in 2015, had been a major employer in the area since the first ever tyre was produced on 3 December 1969.
The site has been sold to developer Silverwood and will be turned into an enterprise park made up of manufacturing, office and warehouse space.
The visit of Irish Prime Minister, Leo Varadkar, to New-Bridge Integrated College in Loughbrickland makes the front page of the Banbridge Chronicle.
The newspaper says students formed a guard of honour to welcome Mr Varadkar, who received a "warm round of applause".
He said their "confident, considerate and outward-looking attitudes" had set a "very optimistic tone" for his visit to Northern Ireland.
The funeral of former Ulster Unionist politician Ernie Hamilton features on the front page of the Londonderry Sentinel.
Mr Hamilton and his wife Mary owned the Beaufort Hotel which was destroyed in July 1972 during the Claudy bombings.
Rev David McBeth told mourners at Mr Hamilton's funeral that he would be "missed by many for his sense of fun, notoriously cantankerous moments, craic, straight talking and friendship".
Elsewhere, the newspaper reports that 141 people had to wait for 12 hours or more at Altnagelvin Hospital's Emergency Department during March.
It says the breaches of the 12-hour target for patients to be discharged represented a significant increase on the 24 breaches in March 2017.
The Western Health Trust has apologised to patients who experienced a long wait and confirmed staffing pressure was an issue, as well as rising numbers of patients and lack of beds.
The trust also features on the front page of the Tyrone Constitution which relays the thanks of the parents of a five-year-old boy with severe autism from Omagh to the community for their fundraising efforts.
The newspaper says the family of Carson Colton had been told by the Western Health that he would not be eligible to receive a new special activity chair for three years.
His parents, Brian and Adele, needed to find more than £4,000 for it and say they are overwhelmed by the kindness of the local community in helping them purchase a bigger activity chair for Carson.
A national story and its local impact is the main focus for the Fermanagh Herald this week.
Its front page carries fears that the Sainsbury's/Asda proposed merger could mean job losses in Enniskillen.
'Massive disappointment'
The paper reports that 370 people work at Asda in Enniskillen, while just under 40 work at Argos, which is owned by Sainsbury's.
The newspaper says bosses of both companies have assured the public there will be no store closures, but "industry experts believe there will inevitably be job losses and that workers could find their benefits, such as paid breaks or bonuses, reduced".
It also says there are concerns "cash-strapped consumers could be hit in the pocket".
There was a "big blow" to local football, the paper reports, when Ballinamallard United dropped out of the Irish league top flight last weekend.
But despite the massive disappointment of relegation, "supporters and sponsors have rallied to assure the Ferney Park club of their total commitment for the new season".
Jeff Aiken, former chairman and lifetime supporter, said his telephone did not stop "with texts and calls from clubs all around the country telling me they were sad to see us go out of the Premiership and how much we'd be missed."