Inga Maria Hauser murder: Police get DNA results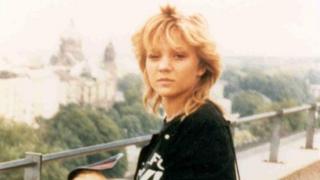 Police investigating the murder of German backpacker Inga Maria Hauser say they have received the results of further DNA testing.
They say they have met scientists and other specialists in order to analyse the results.
Ms Hauser, 18, went missing after she arrived in Larne on a ferry from Scotland on 6 April 1988.
Her body was found two weeks later in a remote part of Ballypatrick Forest, near Ballycastle, County Antrim.
Police renewed their appeal for information last month - the 30th anniversary of the murder.
They say they have received more than 30 calls from members of the public since then.
"Some of the developments over this period have been interesting and are being progressed by the investigation team," said Det Ch Supt Raymond Murray.
One strand of the investigation was to identify the man whose DNA was found at the crime scene, he added.
"A previous DNA screening process was one of the largest ever conducted and involved many hundreds of people, throughout the UK," he said.
"However, as time evolves so does DNA science, so we have carried out further familial DNA screening.
"We have now received the results and have met with scientists and other specialists in order to take these forward.
"We still believe we are extremely close to progressing criminal justice action against Inga Maria's killer or killers."
Police believe Ms Hauser died shortly after she arrived in Northern Ireland, having been subjected to "a vicious and ruthless assault".
Her sister, Friederike Leibl, has issued a letter through the PSNI, appealing for information.
"It's been nearly 30 years since my younger sister Inga-Maria was so brutally murdered, you cannot imagine how the murder of my sister has affected my family - we are broken inside," reads the letter.
"My father was worst hit - he fell ill with prostate cancer in 2005 and was treated for depression when the whole body was full of cancer.
"The fact of being confronted with this murder for a lifetime is just cruel, sick, sick. So I ask you to come forward with information, otherwise my sister's soul will never rest."
Mr Hauser died not knowing who killed his daughter, while her mother has been ill for many years.
Det Ch Supt Murray appealed to the family and friends of the murderer or murderers to come forward.
"Thirty years has passed and in that time we have to ask not only what impact this murderer has had on the Hausers but what impact has he had on his own family," he said.
"If you are a family member who has information or who even assisted the killer or killers in the aftermath of the incident, search your conscience as now is the time that common humanity should override misplaced loyalty."