Bangor attack accused banned from entering town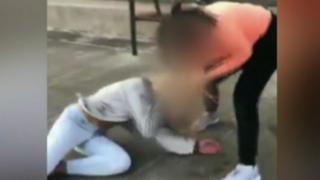 A teenage girl accused of taking part in an attack on another girl in Bangor, which was filmed and then posted online, has been banned from the town.
The 16-year-old is charged with causing grievous bodily harm with intent at the town's marina on 20 April.
On Tuesday, she was released on bail with strict conditions applied.
The victim, also 16, was left with serious head and facial injuries after she was punched, kicked and had her head banged off the ground.
She was also held down and had alcohol poured over her face, leaving her fearing she was choking, Tuesday's High Court hearing was told.
Two other defendants, Cora Campbell, 18, of English Street in Downpatrick, and a 17-year-old boy, are accused of the same offences.
Police say the 16-year-old accused, who cannot be identified because of her age, arranged for the girl to come to Bangor pier, where Ms Campbell was the lead assailant.
During interviews the pair were said to have made admissions about their involvement but denied either the gravity or intent to injure.
Paramilitary threat
Defence lawyers argued it had been a fight where the injured party came off worst.
It was also revealed in court that the defendants are under potential paramilitary threat if they return to Bangor.
With Ms Campbell granted bail last week to live at an address in Belfast, lawyers for the 16-year-old accused resumed their bid to secure her release from custody.
Mr Justice McCloskey was told she is currently in care and yet to fully comply with other, unrelated court orders.
Describing the situation as "lamentable", the judge emphasised that bail was being granted on the most stringent terms.
He set a one-week deadline for the girl to write letters of apology and bake a cake for staff at a children's home - terms imposed under the previous youth conference orders.
'Very sorry young lady'
As well as covering Bangor, the exclusion zone includes other areas covered by the potential threat.
The girl was curfewed, forbidden from accessing social media, using mobile phones and any contact with the alleged victim or co-accused.
The judge said she was fortunate to be getting bail.
"(She) has displayed disgraceful disregard for previous court orders. That will now stop," he said.
"If it doesn't, and if her preference is to remain on the slippery slope of breaching court orders and thumbing her nose at society generally, she will be a very sorry young lady."