Newspaper headlines: Border hopping and 'poor manners'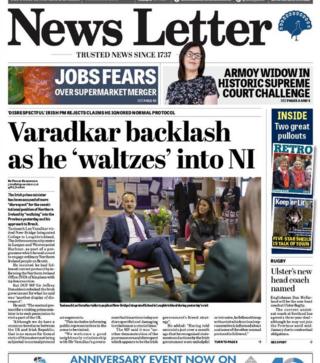 It's all about a "waltzing" Leo Varadkar and an "aggressive" Michel Barnier in Tuesday's papers.
The Irish prime minister and the EU's chief negotiator were attending an all-island Brexit conference in Dundalk, and between them they have managed to generate a slew of headlines (and a controversial late night tweet).
The News Letter reports that the taoiseach (Irish PM) stands accused of "another display of disrespect" - he hopped over the border to meet what he called the "real people" of Northern Ireland to talk about their "real concerns".
But DUP MP Jeffrey Donaldson said there was "no excuse for formal visits of this nature not being subject to normal protocol arrangements".
"This includes informing public representatives in the areas to be visited," he said.
Mr Varadkar insists he had followed the correct protocol by informing the Northern Ireland Office of his plans with 24-hours notice.
This border-hopping has also given rise to another tweet from the unionist peer, Lord Kilcooney.
The Daily Mirror says he has "sparked fury" with his tweet, which called Mr Varadkar a "typical Indian".
The paper points out the former MEP was reported to the House of Lords standards commissioner last year over a similar-sounding tweet about the Irish prime minister.
'Distant from London'
While Mr Varadkar has been accused of having "poor manners", Mr Barnier has been accused of not understanding unionist concerns and culture.
Arlene Foster, the leader of the Democratic Unionist Party (DUP), said the Frenchman was not an "honest broker".
The News Letter says Mrs Foster has received the backing of her party after expressing her disappointment that Mr Barnier's two-day visit to the island of Ireland would be dominated by anti-Brexit views.
However, in its editorial, the Irish News comes to Mr Barnier's defence.
"It is not clear what aspect of unionist culture he has failed to grasp or how effectively the DUP has presented its case to him," the paper says.
Unlike his UK government counterpart David Davis, it continues, Mr Barnier "has taken a close interest in the border and the concerns of those who live in the region".
Writing exclusively for the Belfast Telegraph, Mr Barnier said he was "committed to finding such a solution that protects the Good Friday Agreement, north-south co-operation and the functioning of the all-island economy, while respecting the UK's constitutional order".
"We are not asking Northern Ireland to remain within the EU," he writes.
"We are not asking Northern Ireland to become closer to Dublin and more distant from London. Rather, we are proposing technical, practical solutions to a complex challenge created by Brexit."
The News Letter's political editor Sam McBride says Mr Barnier repeated his "backstop" option for the Irish border - whereby in the absence of any other solution, Northern Ireland, or the UK as a whole, would align with EU rules.
"In the referendum, unionism voted largely to leave the EU, but there was a sizeable pro-Remain unionist vote," he writes.
"But just as there is a unity across nationalism to Brexit, so there is emerging a unified unionist front in opposition to the backstop option."
Boaty McBoatface again?
In other news, the Belfast Telegraph's front page has a picture of Siobhan McLaughlin and three of her four children.
The 46-year-old, from Armoy, is involved in a landmark legal challenge over her right to widows' benefits and her case went before the Supreme Court, the UK's highest court, which is sitting in Belfast.
The court heard Ms McLaughlin's children had been punished because she had never married their father and was therefore being denied certain allowances.
The Supreme Court is sitting again on Tuesday and it will hear submissions in the so-called "gay-cake" case.
And finally, the Daily Mirror says the public is being invited to name two carved stone lions, which once again have pride of place in Rowallane Gardens.
Replacements had to be made after the original pair, which had stood guard for more than 100 years, were stolen from the National Trust property in County Down in 2016.
Let's just hope the National Trust don't have another Boaty McBoatface situation on their hands!