PIP assessments: Call to change 'inhumane' benefit system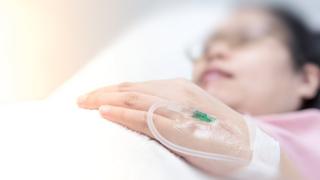 There have been calls for changes to the benefits system for people with life-limiting health conditions.
Some of those in need of Personal Independence Payments (PIPs) lobbied officials at Stormont on Monday over a system described as inhumane.
The system requires people with a life expectancy of longer than six months to undertake a face-to-face assessment to prove they are terminally ill.
They then face a wait of up to three months for payment.
The Department for Communities, which is responsible for welfare payments, said it heard moving testimony from those affected but it would be up to a Northern Ireland Executive to make any changes.
Northern Ireland has been without a government since January 2017.
Martin Murtagh, who has dementia and lost two sisters to the same disease, was among those at Stormont.
His life expectancy is unknown so he had to be interviewed to prove the details of his condition before he could receive a PIP to help him with his illness.
He said the stress of waiting for the appointment, on top of his diagnosis, was almost too much to bear.
"I was actually quite suicidal and very depressed," he said.
"Everybody keeps saying to you, 'don't worry about it, you'll be alright'.
"Worst thing anyone can say to you is 'don't worry about' - of course you're going to worry."
Colm Davis is a former school principal who has motor neurone disease - he said the fight for additional benefits he should be entitled to is unacceptable.
"It's a long, hard struggle but the thought of being reassessed for PIPs over and over again is mentally draining and worrying," he said.
"Especially when you don't have any indication when you're going to die."
Nichola Mallon, the SDLP's deputy leader, said she wants the five party leaders to come together to demand urgent change.
"If you're diagnosed with a terminal illness you deserve to be spending that time in the best possible way and sitting waiting on an appointment to go for a face-to-face assessment for PIP, to be worried about that, to be stressed out about it and then to have to wait some time for payment - it's just cruel and inhumane."
Meanwhile, Mr Murtagh had this message for government officials.
"Why are you putting me through all this again? I'm going to have to go through all this stress after going through an assessment and handing in all the medical evidence," he said.
"I had all the medical evidence from different doctors from within the hospital, so why put me through that again."