Trust recalls 2,500 patients over treatment fears
By Marie-Louise Connolly
BBC News NI Health Correspondent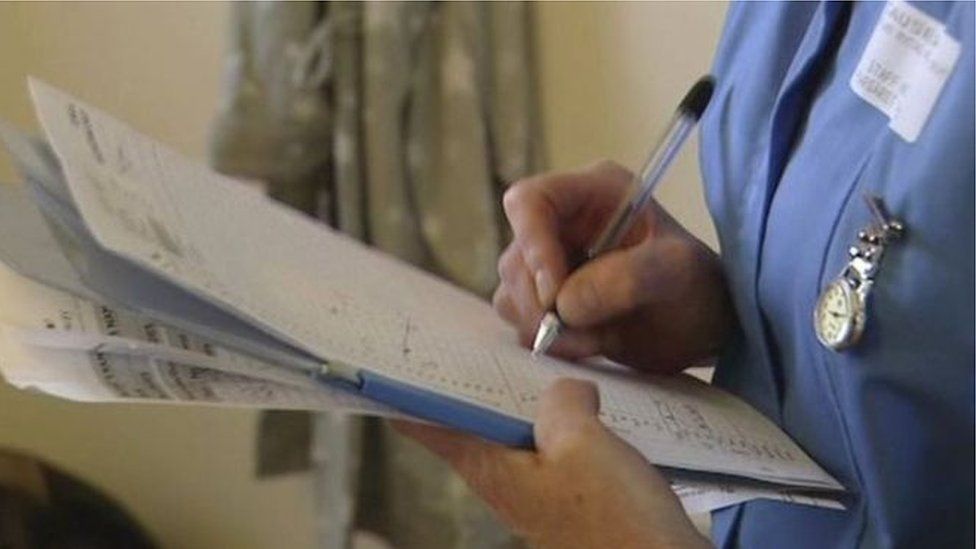 More than 2,500 neurology patients in Northern Ireland, including children, are being recalled for a case review.
The recall comes amid concerns some patients may have been misdiagnosed.
The BBC can reveal that this follows a review of the work of neurology consultant Dr Michael Watt at the Belfast Health and Social Care Trust.
Neurology is the treatment of brain conditions including MS, Parkinson's Disease, Stroke and Motor Neurone Disease.
Following the case review, the patients involved could receive devastating news.
While some of these conditions can be treated, nearly all are life-changing.
Patients being recalled should have received a letter by post on Tuesday. It will include details about how to make an appointment.
An advice line is now operating for those who have been affected - it is 0800 980 1100.
The Ulster Independent Clinic, which confirmed that Dr Watt operated a private practice at the clinic until June 2017, said it would be operating a helpline for concerned patients from 09:00 BST on Wednesday morning - the number is 028 9068 6511.
Both the trust and the Royal College of Physicians have carried out separate reviews of patients' notes.
Concerns were initially raised by a GP about a patient's diagnosis and treatment in December 2016.
The Belfast Health Trust said it was a "serious" situation and apologised to patients and their families.
Nichola Mallon, SDLP, told the BBC that she raised the issue on behalf of several constituents last year.
"It is as if we have been beating our heads off a brick wall, trying to get information about what is going on and trying to get answers including diagnosis," she said.
"Some of my constituents have been in Dr Watt's care for years. But they can't get a proper diagnosis. So they are living in pain their quality of life is deteriorating, they don't know whether they are on the right medication, some cannot work."
Analysis: Biggest patient recall ever
Among the 2,500 under review are children, some of whom may have been struggling with a wrong diagnosis.
A consultant who once worked alongside Dr Michael Watt said all of his colleagues were shocked.
He said it was a "daunting" time for everyone, but patient safety must come first.
Dr Mark Mitchelson is responsible for neurosciences at the Belfast Health Trust.
Speaking exclusively to the BBC, he said: "While we hope this will affect a very small number of patients - the change in diagnosis could potentially be very significant.
"We understand that this must be incredibly anxious for them and, for that, we are deeply sorry for any distress that has been caused.
"Equally, we feel it's absolutely vital that we are prudent and cautious when dealing with any patient safety issues and hence, that is why we are recalling these patients to be seen."
While there is particular concern over a small number of his patients, the trust has decided to recall everyone who is currently in Dr Watt's care.
The trust did not rule out the possibility, at a later stage, it could stretch to patients who died while in Dr Watt's care.
Dr Mitchelson said nine neurology consultants in the trust would be running 200 additional clinics starting from Saturday 5 May.
They will see the 2,500 patients including teenagers as young as 14 years of age as quickly as possible.
'In an hour, my world was upside down'
Beverley Davidson was one of thousands of neurology patients who discovered on Tuesday morning that they would face fresh appointments as part of the review. She told BBC News NI about how she found out about the news.
"I was out with my husband in the car, we turned the radio on and heard mention of Dr Watt and a bit of controversy over it - I decided to look at the news on the phone to see that patients were being recalled.
"I've come home and the letter is in the post to say I've been asked to come for an appointment in May.
"I was shocked. It leaves you very uneasy. You're unsure of what's going on, what's going to happen. I'll have to go through lots of tests again, which was quite traumatic at the time. It leaves you in limbo, really - not good.
"I just don't know what to think - I found Dr Watt to be understanding and helpful. He took me through the paces of what I was going through. He made it quite easy to work with. The panic of who will take over or what will happen - I just don't know.
"The trust could have dealt with this a lot better than they have. To just send out a letter and hear a news report with no preparation - heartless.
"I wasn't expecting this today or any day. Within an hour, your whole world's upside down and will be until I have another consultation with whoever I get.
"I just hope they're just as efficient and professional as Dr Watt was with me."
Some of the recalled patients will be seen by doctors working in the independent sector.
"Certainly this is a significant number and, within the neurosciences division, we have never been involved with a recall of this scale," Dr Mitchelson said.
"These are patients with a wide range of neurological conditions, some of which are debilitating, complex and significantly serious.
"But standards did dip around one consultant and patient safety should always be paramount - hence the recall."
According to the Belfast Health Trust, Dr Watt has not seen any patient either in the public or private sector since June 2017. He remains an employee.
The Ulster Independent Clinic said that Dr Watt operated a private practice at the clinic but he voluntarily suspended it in June 2017.
"Late last evening we were made aware of the completion of the review, commissioned by the Belfast Health and Social Care Trust, undertaken by the Royal College of Physicians into Dr Watt's clinical practice.
"When this is made available to us we will immediately consider the report to fully understand the type and extent of the concerns raised."
It added: "We would like to reassure all Dr Watt's patients, potentially impacted by this issue, that we are moving as quickly as possible to address any concerns they may have."
Some of those who received letters on Tuesday have shared their experiences with BBC News NI.
Kathy Ellis said that strong medication she did not need "stole" her life.
"I was like a zombie," she said.
However, she improved after a new consultant changed her treatment.
"I feel so much better until today, until I got the letter," she said.
"I'm angry. I've been very tearful and crying all day. That's my life, how dare they."
Maeve Falconer said she was diagnosed with MS but later found out that was not the case.
"I believed that I had MS. I'd told my family, I'd told my employers, my husband told his employers.
"I thought if I told people I took control of it - and then to find out in February I didn't have MS, that was a bit of a shock."
She added: "I am absolutely furious. I'm not recalled because I actually fell through the cracks before getting to that stage.
"But I'm so, so cross to think that I was not the only person in this position, that there are so many others who potentially are looking at the same thing as me or worse."
One caller to BBC's Talkback programme said his daughter, who has brain stem epilepsy, was a patient of Dr Watt's.
"We received a letter this morning (Tuesday) to go to the Royal Victoria Hospital on Sunday", he said.
"She hasn't had an appointment with neurology for at least five years and now this has come like a bombshell - it's frightening.
"We feel we are left in limbo," the caller added.
The trust said that it also wanted to reassure patients on already long waiting lists that they would not be affected by the recall.
Dr Mitchelson said the consultants were very much aware of Northern Ireland's "unacceptable" waiting times and running 200 additional clinics would ensure these patients would not have to wait any longer.
When asked by the BBC if the General Medical Council had been made aware of the review and Dr Watt, a spokesperson said that the trust had taken all "appropriate action including liaising with the GMC".
"It remains unclear if Dr Watt has referred himself to the governing body or if the Belfast Health Trust has done so on his behalf," the spokesperson said.