'Up to 100' witnessed Mullaghbawn vigilante attack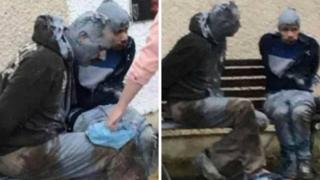 A woman who saw two men being assaulted in a south Armagh village has said up to 100 people were watching the "brutal" attack.
The woman, who did not wish to be named, said a priest intervened to try to calm the situation.
The men, who had been wanted by police, were found in Mullaghbawn on Saturday evening.
The woman said she thought one of the men being attacked had been killed.
She told the BBC: "They kicked them in the head. They beat them with sticks. They jeered. They took pictures of them."
"I thought one of them was dead," she added.
The woman said one of the men was hit on the head with a bottle.
"We went for the priest and he immediately came down and tried to plead with them.
"I know they had to be taken out of the community - but not like that."
She said the incident had done damage to the image of the area.
"People were saying we'd rather go to Syria than to south Armagh now," she said.
Priest tried to intervene
Local priest Fr John Heagney confirmed that he tried to intervene but did not want to do an interview.
One of the two men attacked, James White, has been recalled to prison following his arrest.
The other man, Alexis Guesto, appeared at Newry Crown court on Monday morning on a bench warrant and was remanded in custody.
It is understood both men had breached court orders by leaving Northern Ireland.
Police said on Sunday that they had to "redirect resources towards investigating a serious assault" after the two wanted men were "kicked and beaten with iron bars".
They were then "further assaulted" and "covered in paint".