Education Authority criticised for £19m overspend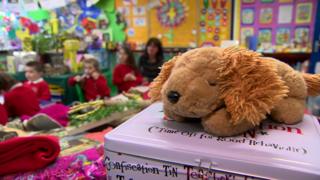 The Northern Ireland Audit Office (NIAO) has criticised the Education Authority (EA) for overspending its budget by £19m in 2016-17.
The EA is responsible for allocating money to schools across Northern Ireland.
It also commissions and pays for things like school transport, school maintenance and support for children with special educational needs (SEN).
The EA's budget for 2016/17 was £1,543m but it spent £1,562m.
The comptroller and auditor general, Kieran Donnelly, also raised concerns about a number of other aspects of the authority's budget, including how late it was confirmed.
"I am concerned that the EA was presented with its budget allocation for 2016-17 on 10 March 2016 and only formally advised six working days prior to the start of the financial year," he said.
"It took the EA almost five months to agree a strategy which would balance its 2016-17 budget."
He also said that if the Department of Education (DE) had not provided additional money to the authority in year, its overspend would have been "significantly higher".
According to the DE, the overspend was caused by the authority spending £7.8m more than it was allocated on schools, £6.8m on SEN and £3.9m on school maintenance.
The EA told the NIAO that the education budget had declined in real terms by £200m since 2010-11.
It said the failure to secure more in-year funding and the fact that it had limited powers to intervene in schools' budgets were among the reasons for going over-budget.
In a statement, the EA said around 99% of its budget is spent directly on schools or services supporting children and young people, leaving little room for reducing spending.
It added, they will continue to make the case for additional funding but believe transformation of the system is required.
The head of the EA, Gavin Boyd, had previously warned that it also faced financial pressures in the years ahead.