Varadkar 'a good neighbour, not an invader'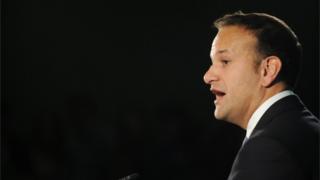 The Irish prime minister's visit to Counties Armagh and Down on Monday is disrespectful of Northern Ireland's constitutional position, a Democratic Unionist Party (DUP) MP has said.
Lagan Valley MP Sir Jeffrey Donaldson said Leo Varadkar's visit was "outside of normal protocol".
He said it showed "poor manners".
However, Mr Varadkar dismissed the claim saying said he informed the Northern Ireland Office about his trip across the border.
"I really just wanted to do something different," the taoiseach (Irish prime minister) said.
"I can assure anyone that I am not an invader, I just want to be a good neighbour.
"I received a very warm welcome in Northern Ireland today," he added.
Among Mr Varadkar's engagements are visits to Warrenpoint Harbour and to an integrated school in Loughbrickland.
"Leo Varadkar's visit is another demonstration of the poor manners and disrespect which appears to be the Irish government's Brexit strategy," Sir Jeffrey said.
"Having told unionists just over a month ago that he recognised statements and actions by the Irish government were unhelpful or intrusive, he follows this up with a visit which no local representative is informed about and none of the other normal protocol is followed."
David Davis apologised last week for not telling Northern Ireland politicians about his first visit to the Irish border as Brexit secretary.
"It is increasingly apparent that the Irish government does not seem to care about securing a sensible and pragmatic outcome from Brexit which can work for both Northern Ireland and the Republic," Sir Jeffrey continued.
"Their preferred approach is to use Brexit in whatever way possible to undermine Northern Ireland and particularly its constitutional position."
"Whilst Mr Varadkar may say that he wants to find solutions to the issues facing us there is little demonstration of him working constructively to find them," he added.
Earlier on Monday, the EU's chief Brexit negotiator Michel Barnier denied the DUP leader Arlene Foster's claims that he has been "aggressive" towards Northern Ireland unionists in the Brexit talks.