NI newspaper review: Barnier border warning and village attack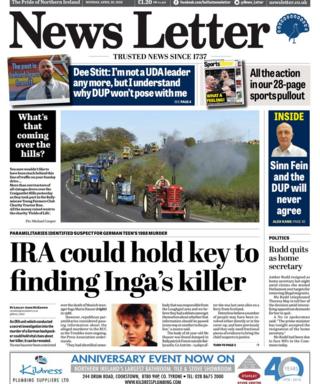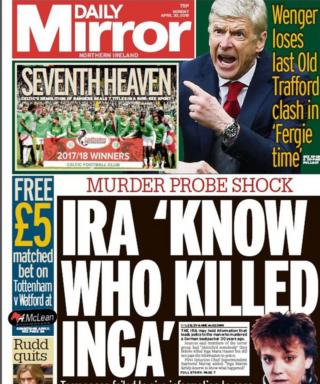 A warning from the EU's chief Brexit negotiator to the UK government that he will not sign any agreement that fails to tackle the issue of the Irish border hits the headlines on Monday morning.
The Irish News reports that Michel Barnier has said there would need to be "substantial progress" on the border by the next major meeting of EU leaders at a summit in June.
Speaking ahead of a two-day visit to Ireland, Mr Barnier said the UK is contradicting itself over its Irish border policy.
He is set to meet Irish Prime Minister Leo Varadkar on Monday and will also speak to business leaders on both sides of the Irish border during his trip.
Both the News Letter and the Daily Mirror lead with the story that the IRA may have information that could help catch the killer of German backpacker Inga Maria Hauser.
The teenager's body was found in a remote part of Ballypatrick Forest, near Ballycastle, County Antrim, on 20 April 1988, after arriving in Larne on a ferry from Scotland. Her neck was broken.
Both newspapers report a story from the Press Association which quotes a source who says that republican paramilitaries considered passing information to the RUC during the Troubles.
The source claims an IRA unit had identified someone they thought was responsible and "had a debate amongst themselves about whether that information should be passed in one way or another to the police".
The Belfast Telegraph, along with a number of the papers, reports on an attack in a County Armagh village in which two men wanted by police were "kicked and beaten" with iron bars before being "further assaulted" and "covered in paint".
'Created hysteria'
James White and Alexis Guesto were taken back into custody after they were found tied up on a bench in Mullaghbawn.
They were wanted for offences including breach of licence and warrants.
"It was like they were in the Wild West," one resident told the Belfast Telegraph. "I think social media got people fired up about it and created hysteria."
Sinn Féin's Mickey Brady told the Daily Mirror that "feelings were running high".
"It's unfortunate that's happened, but thankfully these individuals are in police custody."
There are interviews with leading north Down loyalist Dee Stitt in the Irish News and The News Letter where he addresses a range of issues.
Mr Stitt, who is chief executive of east Belfast community organisation Charter NI, tells the Irish News that the UDA's war is "well and truly over" and that he supports the work of the Paramiltary Crime Task Force "when it is balanced and fair".
Earlier this month, Northern Ireland's three loyalist paramilitary organisations said they fully support the rule of law and suggested any members involved in crime will be expelled.
Mr Stitt, who denies he is a UDA commander, said the North Down UDA had recruited until recently, but has now "retired".
He tells the News Letter he joined the UDA at the age of 15, but claims to have left in 1992, before he was jailed for his involvement in an armed robbery linked to the paramilitary group.
"After it was proscribed [in 1992], I left the UDA," he tells the News Letter. "But I was still involved with the organisation."
Elsewhere, the Belfast Telegraph reports that news that Mr Stitt has submitted a proposal for Stormont to pay Charter NI to help the UDA effectively disband in east Belfast and north Down has been branded "ridiculous" by the SDLP.
The newspaper also has a feature on Ulster and Ireland rugby star Jacob Stockdale who told worshippers at a County Down church that it was "incredibly hard" combining life as a Christian with his professional sport.
Mr Stockdale's father is a former Presbyterian minister and he has links to Banbridge Road Presbyterian Church which go back more than a decade.
He told the congregation that his faith had been a help in his sporting career.
"You work with your mates - 40 lads - and it's quite easy to get caught up in the lad banter, and to do things everybody else is doing because it's the easiest thing to do," he said.
"The one thing that I found is to keep coming back to church, to keep getting refilled, refreshed."