County Tyrone: Three arrested as device found in Strabane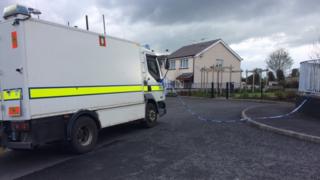 Three men have been arrested after a bomb was found during a number of searches in Strabane, County Tyrone, the PSNI have confirmed.
Ten houses were evacuated during a security alert after police discovered "a viable explosive device" during one of the house searches in the Drumrallagh area of the town.
Army technical officers made the device safe and took it away for examination.
The security alert ended at about 17:00 BST on Sunday.
The searches were in "response to violent dissident republican activity", the PSNI said.
Three men aged 43, 45 and 77 were arrested at the scene under the Terrorism Act and have been taken to Musgrave Serious Crime Suite in Belfast for questioning.
A PSNI spokesperson said: "It is beyond belief that terrorists have stored a bomb in the heart of one of our communities.
"Fortunately this device was found and made safe before it could cause any harm, however, it clearly shows the intent of those individuals to kill or seriously injure.
"They have absolutely no regard for the safety of local residents in the Drumrallagh area.
"The people involved don't care who is a victim - a child, a mother a father, a sister, brother, granny or granddad," he added.
Lurgan alert
In a separate operation, police investigating dissident republican activity in the Cornakinnegar Road area of Lurgan , County Armagh, recovered bomb-making material and ammunition.
The items have been taken away for further examination.
The train line between Lurgan and Moira was closed for a time due to this security alert but has now reopened.