The EU's chief Brexit negotiator begins two-day visit to Ireland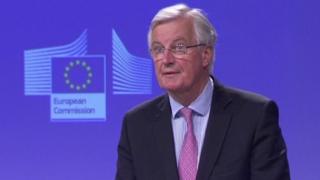 The EU's chief Brexit negotiator Michel Barnier is on a two-day visit to Ireland.
It comes amid increasing tension between the UK and EU on how to guarantee no hardening of the border.
Mr Barnier says there will need to be "substantial progress" on the border issue by the next major meeting of EU leaders in June.
Brexit Secretary David Davis has suggested the EU is trying to create an "artificial deadline" in June.
Mr Barnier will give a speech at an Irish government event in Dundalk before crossing the border to meet with business groups in Newry.
On Tuesday, he will visit Dungannon and Londonderry.
Last week David Davis made an unannounced visit to the border area, spending a few hours in County Armagh.
Writing in Ireland's Sunday Independent newspaper ahead of his visit, Mr Barnier said the time had come for the UK to "resolve the contradictions" in its Irish border policy.
He questioned how the UK can commit to not having a border in Ireland while also wanting full regulatory autonomy and an independent trade policy.
In March, the UK and EU reached broad agreement on a withdrawal deal which will ease the UK's path to Brexit.
However, most issues relating to the Irish border were not agreed.
The main sticking point is the so-called "backstop" option for the border.
It would mean that in the absence of any other solution, Northern Ireland, or the UK as a whole, aligning with EU rules required to support North-South cooperation and an all-island economy.
The UK has accepted the need for a backstop to be written into the Brexit withdrawal agreement.
But it has not agreed what areas it should cover.
The EU has published a draft legal text which would essentially mean Northern Ireland staying in the customs union and the single market for goods.
It was rejected by the UK, with Prime Minister Theresa May saying "no United Kingdom prime minister could ever agree to it".
The UK and EU would both prefer to solve the border issue in the context of an overall trade deal.
However, Mr Barnier said the the EU is "fully committed" to the backstop option in case the overall future relationship between the EU and UK does not, in itself, solve the border issue.