UK must 'resolve contradictions' in border policy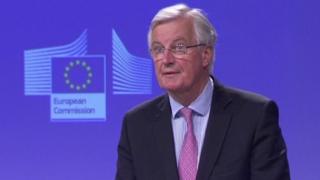 The EU's chief Brexit negotiator has told the UK the time has come for it to "resolve the contradictions" in its Irish border policy.
Michel Barnier was writing in Ireland's Sunday Independent newspaper ahead of a visit to the country on Monday.
He said there will need to be "substantial progress" on the border issue by the next major meeting of EU leaders.
They are due to assess progress on the border issue at a summit in June.
Last week the Brexit Secretary David Davis suggested the EU was trying to create an "artificial deadline" in June as a negotiating tactic.
The Brexit secretary also rejected reports that the European Commission has completely rejected the UK's plans for avoiding customs checks at the Irish border when the UK leaves the customs union.
October is the presumed deadline for a withdrawal agreement which will give the UK a smooth exit path from the EU.
In March, EU leaders agreed to a 21-month Brexit transition period between March 2019 - when the UK officially leaves - and the end of 2020.