West Belfast school principal to return after two years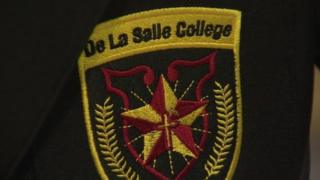 The principal of De La Salle College in west Belfast is to resume her role after almost two years.
Claire White has been on leave from the Catholic secondary school since May 2016.
Some parents and pupils had held protests at the school in 2016 over staff absences.
The board of governors at the school has now decided that Ms White should return to her post as principal.
Problems at the school first came to light after BBC News NI revealed that about a third of staff had been absent from the school on one day.
A subsequent report commissioned by the then education minister John O'Dowd found that staff disputes had affected pupils.
Acting principal
A later inspection also criticised some safeguarding arrangements at De La Salle.
Marian O'Neill has been acting principal at the school during Mrs White's absence.
A letter published on the school website on Thursday from the chair of the governors, Monica Culbert, announced Mrs White's return.
"The Board of Governors have deliberated on the arrangements for the long-term leadership of the college moving forward," it said.
"In light of the significant improvements that have taken place within the college, the board of governors are in agreement that it is the right time for Mrs White to return to her post as principal."
Mrs White will fully return to her post at the end of the current school year in June.
During May and June she will receive detailed briefing from staff, governors and CCMS as part of a preparation and handover programme on a part-time basis.
The letter also said that Mrs White had the governors' full support.
"We are confident in her ability to lead the staff as we continue our journey of improvement," it continued.
The letter concluded by stating that it recognised that parents may have questions or issues they wanted to raise, and invited them to contact the governors to discuss these.
In a brief statement Mrs White said she was pleased the governors had decided on her return and was looking forward to working with the school community again.
'Shock announcement'
A group of parents of pupils at the school, the Concerned Parents Committee, issued a statement on Friday saying they cannot understand the decision.
"The Board of Governors have voted against this decision on a number of occasions over the past two years and we understand that a number of the governors, CCMS and church representatives are personally opposed to this decision," it said.
"Parents have not been provided with any information in relation to an investigation into the conduct of the principal during and prior to 2016.
"We leave it to parents to decide how they wish to move forward with this shock announcement."