Gary Marshall acquitted of kidnapping Kevin Conway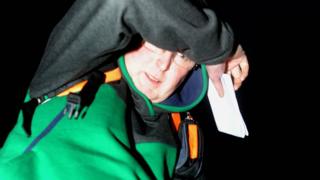 A man accused of helping to abduct murder victim Kevin Conway, who was shot dead in County Antrim 20 years ago, has been acquitted of kidnapping.
Gary Marshall, from The Beeches in Portadown, County Armagh, was cleared on the direction of a Belfast Crown Court judge, due to lack of evidence.
Mr Conway was found dead at a derelict house in Aghalee, in February 1998.
The victim, who was married with four children, was shot in the head in a murder widely blamed on the IRA.
The body of the 30-year-old was discovered with his hands tied behind his back and a hood over his head.
'Forensic failings'
Mr Marshall was arrested at the time and questioned about the murder, but was subsequently released without charge.
In December 2013, Mr Marshall was re-arrested by detectives carrying out a review of the original Royal Ulster Constabulary (RUC) murder investigation.
They used new forensic analysis which was not available in 1998, which centred on fibres from the red top Mr Conway was wearing on the day he disappeared.
A year later, a pre-trial hearing at Craigavon Magistrates' Court was told a murder charge against Mr Marshall had been dropped, but he was still accused of involvement in the kidnapping.
The trial began at Belfast Crown Court last June, with Mr Marshall accused of supplying the car which was used to abduct Mr Conway from his home and drive him to the derelict house.
'Cross-contamination'
The prosecution case argued that two pieces of forensic evidence linked Mr Marshall to Mr Conway's abduction - red fibres found in the car which matched fibres from Mr Conway's top and also debris in the footwell of the car which matched debris taken from the floor of the derelict house.
However, the judge highlighted failings in how investigators had collected debris samples from the murder scene, the method in which the samples were stored, and the possibility of cross-contamination.
In his judgement, he told the court he had "grave suspicions Gary Marshall played some part in the disappearance of Mr Conway, or at the very least he knew far more that he is willing to admit", but added that the available evidence "did not satisfy the required standard".
He explained that the case against Mr Marshall was circumstantial and he could not be satisfied beyond reasonable doubt of returning a guilty verdict.
Therefore the judge directed that the defendant "must be acquitted".
Speaking after the ruling, Mr Marshall's defence solicitor said he was pleased and welcomed the judge's comments about the standards required of forensic evidence.