White-knuckle cliff walk along the Gobbins reopens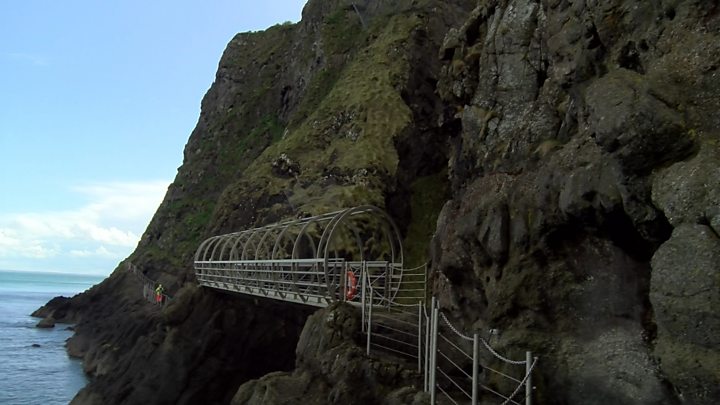 Designed to take your breath away, the Gobbins path, a 1.2 mile (1.9km) stretch along the County Antrim coast is not for the faint-hearted.
Originally designed by Irish engineer Berkeley Deane Wise, the Gobbins path was a popular haunt for the Edwardians,
The cliff walk had fallen into disrepair by the 1950s but with a £7.5m investment it opened again in 2015.
However storm damage and rock falls closed the walkway to visitors twice since the reopening.
The walk opened for this tourism season on Saturday.
Essential maintenance costing £400,000 was carried out to fix the access path after the damage caused by Storm Frank in 2015.
Ahead of the 2017 season, Mid and East Antrim Borough Council allocated an additional £1.6m to the Gobbins.
The money was well spent according to mayor Paul Reid: "We had to do some scaling of the rocks and we are only allowed to scale the rock when the birds aren't there nesting.
"That meant we were only open for July and August but we had over 9,000 visitors."
Although the Gobbins was only open for eight out of 32 months since the 2015 revamp, Mr Reid says safety is the council's "top priority".
The rock scaling carried out in 2017 was designed to prevent further rock fall damaging the path.
The tour lasts 2.5 hours and operations manager Alister Bell said it is exhilarating as it is breathtaking: "You'll taste the sea salt in the air and feel the wind in your hair - all under your safety helmet of course."
The tour takes you along the steep cliff face as the waves crash against the rocks below.
The Gobbins is also home to Northern Ireland's only mainland colony of puffins.
Guillemots, cormorants and kittiwakes are also frequent visitors to the basalt cliff face.
On a clear day you can see the Mull of Kintyre in Scotland.