Trinity College launch initiative targeting NI students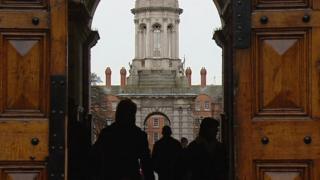 Trinity College in Dublin (TCD) has launched an initiative to try to attract more students from Northern Ireland.
Only 136 students from Northern Ireland began full-time undergraduate study in the Republic of Ireland in 2016/17.
In the same year, there were only 568 full-time Northern Irish students enrolled in universities in Ireland.
That is according to figures from the Higher Education Authority.
That contrasts with almost 17,000 students from Northern Ireland who were at university in England, Scotland or Wales in 2016/17.
Accommodation costs
The reasons for the comparatively low numbers studying in the Republic of Ireland include the entry points value of A-Levels compared to Leaving Certificate qualifications.
However, that has changed in recent years.
The careers teacher at Enniskillen Royal Grammar School, Damien Dempster, said concern over accommodation costs was also a factor.
"Accommodation is very expensive, particularly in the Dublin area," he said.
"That negates students looking at Dublin, which is unfortunate as it has so many things to offer students in terms of a student lifestyle."
"They look at the north-east of England instead, so we have a lot of students going to Newcastle and that area and Scotland."
However, he said 21 students from the school had expressed an interest in starting university in the Republic of Ireland next year.
The relatively low numbers venturing south are also surprising as fees are currently much lower there.
'Uncertainty over Brexit'
Northern Irish students in the Republic pay a student contribution of 3,000 euro a year, compared to annual tuition fees of just over £4,000 in Northern Ireland and over £9,000 in the rest of the UK in many cases.
But Dr Gillian Martin from TCD admits that Brexit means that uncertainty about whether those relatively low fees will continue in future.
"We've seen a significant increase in the number of applications from students from Northern Ireland," she said.
"But we would have concerns that with the uncertainty coming from Brexit and the potential fee situation that might impact on applications in the coming years."
"If a student is applying to enter in 2018, there has been confirmation that their fee status will remain for the duration of their undergraduate degree programme and they will be charged EU fees."
"But after that we don't know what will be happening."
If Northern Ireland students were classed as non-EU students after Brexit that could mean them paying non-EU fees, which are over 18,000 Euro a year in many cases.
However, the BBC understands that discussions aimed at preventing that rise are taking place.
'Tradition we need to restore'
BBC News NI attended an event where TCD officials travelled to Lisburn in County Antrim to meet with careers teachers and principals from local schools to encourage more applications from local pupils.
One of those who attended was Professor Brian Walker from Queen's University, who is a TCD graduate.
He said it was culturally vital that there was a cross-border flow of students.
"In the past, many more Northern Irish students went to Trinity," he said.
"I was one of those as I went there in the 1960s and that was a very important tradition."
"It remains a very important place for us."
"So many of our students from Northern Ireland go to England and they never come back."
"Whereas if they go to Trinity there's a much better chance they'll stay on the island, and a much greater chance they'll stay here in Northern Ireland."
"For all these reasons, I'd recommend Trinity - it's a tradition we need to restore."