Newry council may ban offensive tattoos in swimming pools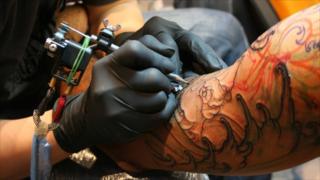 Newry, Mourne and Down District Council is considering whether to introduce a policy relating to the display of offensive tattoos in swimming pools.
The council received complaints relating to a tattoo on an individual at Newry's council-owned pool.
The tattoo is understood to depict a violent sexual scene.
The council told the BBC it was aware of the issue and had raised the matter with its head of corporate policy.
It has also contacted the Equality Commission "in regard to future policy development".
"The Council requests for sensitivity to be shown and cannot comment further whilst this investigation is ongoing," a spokesperson said.