RUC officer told to lie about IRA shooting if questioned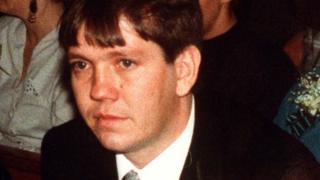 A former RUC officer who shot an IRA man in controversial circumstances 27 years ago has claimed senior colleagues asked him to lie if questioned about police actions after the killing.
But the retired officer said he was not asked about "post incident procedures," or asked to lie about the actual shooting.
Colum Marks was shot dead in Downpatrick in April 1991.
The officer who killed him said he believed he was armed.
He also claimed Marks refused to stop when an attempt was made to arrest him.
The family of the 29-year-old insist he was unarmed and was shot after being arrested.
The Police Ombudsman announced that he was launching an investigation two years ago after an eyewitness came forward and supported the family claim.
'Significant development'
But it has not started yet, with the Ombudsman citing a lack of resources.
Lawyers acting for the family are engaged in legal action in a bid to force him to start the investigation, and to force the Department of Justice (DoJ) to release the necessary funding.
In court today they said there had been "a significant development" in a statement given to the Ombudsman.
Hugh Southey QC said the officer who fired the fatal shots "has indicated that he was asked to be untruthful by superior officers".
But a solicitor for the Ombudsman intervened and said he wanted to clarify exactly what had been said by the man he referred to as Officer B.
"He advised the Police Ombudsman's Office the request to be untruthful related to post-incident procedures," the solicitor said.
"Even if he had been asked about those procedures he would not have been untruthful (but) he advised that he wasn't asked about post-incident procedures."
Hugh Southey QC also told the court that an independent forensic report commissioned by the family's legal team supported the claim by the family of Colum Marks that he was unlawfully killed.
The report concludes that the coat he was wearing on the night of the shooting indicates that he was shot in the back, rather than in the front of his body as he prepared to attack police.
The legal challenge to the Police Ombudsman is due to be continue in June.