'No dignity' for girl forced to wash in paddling pool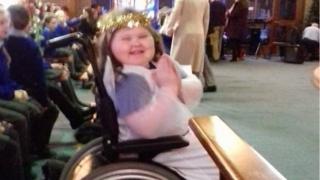 The father of a nine-year-old disabled girl who has to bathe in a paddling pool in her living room has described the situation as "horrendous".
Hannah Shortall, from Craigavon, who has Duchenne Muscular Dystrophy (DMD) has no accessible downstairs bathroom.
Brendan Shortall told BBC News NI the new home allocated to the family which is suitable for Hannah's needs will not be ready until August.
DMD is a genetic disease that causes weakness and loss of muscle function.
The Housing Executive (HE) told the family that it has secured a temporary home until the new house is ready but they have not yet been given a date for it.
Mr Shortall said that since an interview with the BBC's Stephen Nolan show last week no-one from the HE had been in touch.
The family realised how serious the situation was after Mr Shortall was carrying his daughter upstairs and nearly slipped and fell.
"That was a real wake up call," he said.
After that they bought a blow up paddling pool to bathe Hannah in the living room.
"I have had to give up my job to care for Hannah with my wife. She only has five percent mobility and needs lots of care and special exercises.
The family said that two years ago a house was reserved for the family by the HE and plans were drawn up to renovate it so that Hannah could bath or shower downstairs.
"We were told it would be January, then it would be March, then April and now have been told it will be August and no reason has been given for the delay."
The Housing Executive said it "understood the frustrations of the family" and was making efforts to ensure the "immediate and long term needs of the family are met as soon as possible".
It apologised for any delay and said it had identified a permanent social home in November 2016 which requires extensive renovations to meet their needs.
'No dignity'
"We anticipate work will start on this family home in June of this year," it said.
It added that a temporary bungalow for the family was being looked into which requires "significant repair work, which will take three to four weeks."
"It is very difficult, horrendous in fact," said Mr Shortall. "Hannah's nine and has no dignity whatsoever. It's just our child who we are worried about.
"It scares the life out of us that something would happen because we don't have the facilities in place.
"When she she does fall we have to lie down with her until she has the confidence to be able to get up again".
The Housing Executive apologised but said it was a complex case involving referrals and planning permission:
"When the family applied to us for social housing in January 2016, the Housing Executive arranged for a complex needs officer to work closely with them.
"In all cases like this, an occupational therapist (OT) identifies what is required in an adapted home to ensure it meets a family's needs.
"A revised referral was submitted by the OT in this case at the end of August 2017, which include a large downstairs bedroom and bathroom. New plans were drawn and agreed by October 2017.
"It is at this stage that the Housing Executive can initiate its steps to progress the work. This ensures that we get the best permanent solution for this family.
"We totally appreciate the inconvenience the family is experiencing and we will continue to work with them to resolve their housing needs."