Locust found in supermarket salad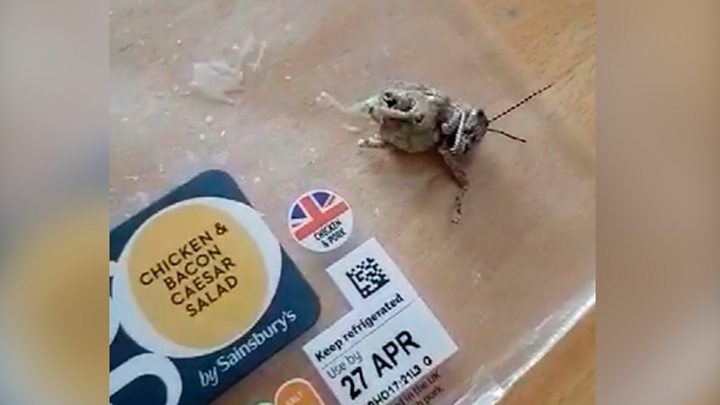 Sainsbury's has apologised to a man in Belfast after he found a locust in one of the supermarket's ready-made salads.
Gerard O'Hora was eating the chicken and bacon Caesar salad when he saw "something black and strange out of the corner of my eye".
It turned out to be a locust, cut in half and still squirming.
Sainsbury's said it had "apologised to Gerard for this unpleasant find" and said it was investigating the incident with its supplier.
"Problems like this are extremely rare and our suppliers have processes in place to prevent this from happening," said a spokeswoman.
'Still alive!'
Mr O'Hora said he was shocked when he discovered the creature in his lunch on Wednesday - and suspects he may have inadvertently eaten the other half of the insect.
He had taken the meal into work with him after purchasing it from a west Belfast Sainsbury's supermarket on Tuesday, and filmed evidence of his grim discovery.
"I cut it up, then had a couple of mouthfuls," he said.
"Then I saw this leg come up from underneath a lettuce leaf - it was unbelievable.
"So I took my camera out to take a picture but had it set on video by mistake.
"It seemed to be cut in half. I don't know how that happened but I think it may have been me who chopped it up and ate the other half and didn't realise - that's the worst part of it."
He added: "It was so big. It wasn't a tiny little creature. And it was still alive."
Mr O'Hora said Sainsbury's have offered him £30 worth of Nectar card points in compensation but he was unhappy with their initial response and wants to know exactly how the insect came to be in his lunch.
'Put off salads'
He said he initially contacted Sainsbury's on social media and was offered the compensation but was told to "destroy" the insect.
"I didn't have to take it back," added Mr O'Hora, who said he used to run a food business. "I found that unbelievable.
"If they found it in my (business) kitchen, they'd have shut me down."
Mr O'Hora said he then returned to the supermarket and showed it to a manager.
He added that he had since been contacted by the company, who have told him they would stay in contact and let him know their findings.
"I just want to know how the creature got in there," he said.
"The salad had a union flag on it - how did it get into a product made in the UK? Where was it made? At what stage of the process did it get into the package?"
He added: "In a few weeks, I might be able to look back on this and laugh but right now I want to know how this happened.
"I used to buy salads regularly but it'll be a long time before I buy one from any supermarket."
The Sainsbury's spokeswoman told BBC News NI that no products had been removed from Sainsbury's shelves as a result of Mr O'Hora's complaint.
She said this was because no other similar complaints had been received and the supermarket believed this was "an isolated incident".