New UFU president criticises environmental watchdog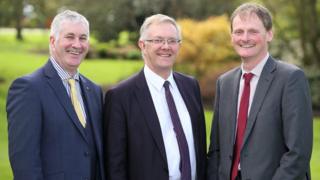 The new Ulster Farmers' Union president has said the treatment of farmers by the Northern Ireland Environment Agency (NIEA) is "not acceptable".
Ivor Ferguson was elected president following the union's AGM on Wednesday.
For years the pig and poultry sectors have been regulated for ammonia, however, that is not the case for the cattle sector which is responsible for 70% of emissions here.
All planning applications for livestock businesses in Northern Ireland are now screened for their potential ammonia output.
'Stalled applications'
Mr Ferguson said the NIEA has not consulted with farmers who have planning applications stalled while assessments are carried out.
"Farmers who applied for Tier 2 Grants in good faith have spent upwards of £20,000 and are still waiting over one year later, held up by ammonia regulations.
"NIEA have changed the rules over the year at least twice with absolutely no consultation with farmers."
The Farm Business Improvement Scheme (FBIS) Tier 2 gave farmers the chance to apply for capital grants to be used for a range of farm developments.
The Department of Agriculture, Environment and Rural Development (DAERA) denies that any changes have been made to the policy over the past four years.
'Frustration'
In a statement, it added that a change in the planning consultations received under Tier 2 of the FBIS "may have led to the impression that there has been a change in rules".
DAERA said that officials had met with Mr Ferguson earlier in the week to discuss the concerns and said they "fully appreciated the frustration" felt by farmers but that the issues are "complex".
They said they plan to issue responses on the stalled applications to councils "very soon".
DAERA said ammonia emissions pose a "significant challenge" and that it must work with the farming industry to lower emissions and that it is currently working with the agri-food and environment sectors, to develop an action plan on ammonia.
Mr Ferguson, a County Armagh sheep and arable farmer, was elected to serve two years as UFU president.
Victor Chestnutt a livestock farmer from County Antrim, was re-elected for a second term as deputy president.
The AGM also elected a second deputy president - David Brown - who is a cattle and sheep farmer from County Fermanagh.