Joleen Corr dies 16 months after being attacked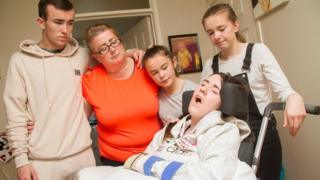 A woman who was left in a vegetative state after an attack in 2016 has died.
Joleen Corr, a mother-of-one, died just days after a landmark ruling said she should no longer be kept alive.
Joleen, 27, was severely injured in an assault at her home in Downpatrick County Down and spent the last 16 months needing 24-hour care.
Due to her extreme pain, a judge ruled food and fluids should be withdrawn and the patient should be allowed to die.
Speaking on BBC Radio Ulster's Talkback programme, her mother, Carol, said: "When it happened it was still a shock, it still broke our hearts.
"The special moment I had was when the nurse lifted Joleen up and put her into my arms. When she took her last few breaths she was in my arms."
Ms Corr added that the last 16 months after the assault had been very distressing.
"When they first let us in to see her after the brain surgery, she was covered from head to toe in bruises, with a broken jaw and her ear was closed over - my sister had me by the arm and I said 'my Joleen's not coming out of this'," she said.
"I tried my best to have hope, we all had that wee bit of hope. But her injuries were just so bad."
Legal first?
The decision to withdraw treatment and allow her to die is believed to be the first legal ruling of its kind in Northern Ireland.
The administration of food and fluids was stopped on Monday 16 April, and it was expected that she would live for no more than 10 days.
Speaking about the ruling earlier this month, Ms Corr told Talkback: "It was hard hearing that decision that day but I just kept praying 'God do what's best for my Joleen'."
Michael O'Connor is the only man charged in connection with the attack.
In January, he pleaded not guilty to attempted murder and grievous bodily harm. He is currently remanded in custody at Maghaberry Prison.
A PPS spokesperson said: "We have been informed of the very sad news of the death of the victim in this case.
"The attempted murder charge currently against a 32-year-old man is now to be reviewed. We will continue to keep the victim's family informed of all significant developments in this case."
No date has yet been set for trial.