Hightown waste plant opponents query Arc21 scheme logic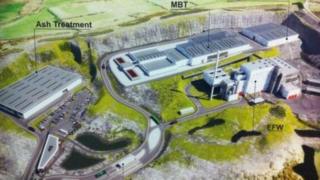 Campaigners against a controversial waste incinerator near Belfast have commissioned a report that they say questions the rationale for the £240m development.
NoArc21 is challenging planning permission for the plant in a former quarry near Mallusk in County Antrim.
Its report claimed there will not be the amount of waste for treatment that the project developers have suggested.
But the developers have said the project is viable.
NoArc21 has claimed that increased recycling targets and other waste treatment plants, including a major one close to completion, will greatly reduce waste streams.
Colin Buick, the chairperson of NoArc21, said the report confirms what his group has "been saying for years".
"There is absolutely no requirement for this proposed incinerator at the Hightown quarry," he added.
The group is awaiting the outcome of a judicial review of the planning approval.
'Economic benefits'
But a spokesman for the scheme backers Arc21 said the incinerator was needed and would bring Northern Ireland into line with European best practice in waste management.
He said the issue of waste volumes had been addressed by an investigation by the Planning Appeals Commission, which had recommended planning approval.
"It concluded that not only were the proposed facilities required but that they would also provide economic - such as construction jobs and skilled jobs in operations - and environmental benefits - such as improving recycling" he added.
The Arc21 development is designed to treat black bin waste from six super councils including Belfast City Council.
The developers have said by recovering recyclables from household waste before incineration it will help increase recycling rates and will help Northern Ireland meet landfill diversion targets.
It also said when the remaining waste is burned it can provide electricity for 30,000 homes.
Legal challenge
Opponents have claimed that little progress has been made on a grid connection so it cannot be promoted as an energy-from-waste project.
There is cross party opposition to the proposal.
Planning permission for it was approved by a senior civil servant in the absence of Stormont ministers, leading to the legal challenge.
A separate £107m waste treatment plant is close to opening in Belfast harbour estate.
The Full Circle Generation plant will take 180,000 tonnes a year of baled waste, rather than raw black bin rubbish.
It will be superheated to produce a gas that will be used to generate electricity to power the Bombardier aerospace plant.
It will be Northern Ireland's first energy from waste facility.