Women let dogs 'die painful deaths'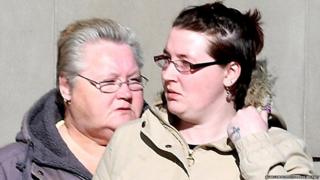 A mother and daughter who allowed two dogs to die "painful and miserable" deaths due to starvation have been banned from keeping animals for life.
Sandra Mullen, 56, and her daughter Julie Mullen, 26, each admitted a charge of animal cruelty.
They were both ordered to serve 150 hours community service.
Belfast Crown Court heard the Jack Russell and Staffordshire Bull Terrier were found dead behind Sandra Mullen's home.
The dogs were discovered after an animal welfare officer from Belfast City Council visited the house on 3 October 2016.
Both women have separate addresses at Cambrai Street, Belfast.
'Miserable deaths'
A vet who carried out a post mortem on the dogs noted they were both severely underweight, and had died "painful and miserable" deaths.
The judge told the women they were both "utterly unfit" to look after animals due to "wilful neglect".
A prosecution lawyer told the court that while the Mullens initially denied a charge of animal cruelty, they subsequently admitted causing the dogs unnecessary suffering.
The lawyer said that when the welfare officer called at Sandra Mullen's home, she claimed the dogs had died the day before.
The older woman, who admitted cruelty towards the Jack Russell, said she had been putting food and water out for the dog.
She also claimed the dog had been "playing happily" the day before it died - which was branded as "utter nonsense" by the judge,
The prosecutor said that when Julie Mullen was questioned about the Staffordshire Bull Terrier, she "adopted the same position as her mother".
'Utterly unfit'
A barrister representing Sandra Mullen said she had no criminal record, adding that she had had the dog for two or three years and "there didn't seem to be any difficulty up to that point".
Julie Mullen's lawyer said her dog was given to her by a neighbour, and that she initially took care of it, but when it started to become unwell she was seemingly incapable of getting it treatment.
"She believed that if she took the dog to the vet, she would be in trouble because the dog didn't have a licence," he said.
His client was extremely remorseful, ashamed and upset, the lawyer added.
Passing sentence, the judge said: "I don't accept for one minute... they were unaware of the suffering these two animals endured."
He also said that while he accepted the pair did not wilfully seek to inflict suffering, it was clear both women were "utterly unfit" to care for any animals.
He ordered them both to complete 150 hours of community service - but warned that any breach of the order would lead to a six-month prison sentence.
The women were also banned from keeping animals for life, and ordered to each pay £250 court costs.