Probe finds 'evidence' of Keady school exam cheating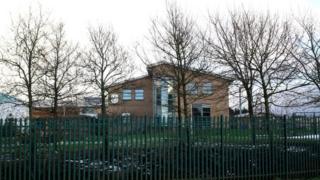 An investigation has found evidence of exam cheating by some staff members at a County Armagh school.
The information is contained in a letter to parents and staff from the chair of the board of governors at St Patrick's High School Keady.
Allegations of cheating in some GCSE exams in 2017 were reported by BBC News NI earlier this year.
Two external principals have also been appointed to oversee forthcoming exams in the school.
Resignation
That follows the resignation of the current principal Pat McGuckian who claimed she was a victim of bullying and harassment.
Allegations were made in late 2017 about cheating in some GCSE exams in the school in summer 2017.
An independent investigation was carried out at the request of the principal and its findings reported to the exams body the Council for the Curriculum, Examinations and Assessment (CCEA).
That investigation has now concluded and its findings reported to the school.
The letter from the chair of the board of governors, Brian Hughes, said it had been a difficult time for everyone at the school.
"We can now confirm that the Board of Governors has received confirmation from CCEA as to the findings and recommendations following the independent investigation," he wrote.
'Malpractice'
"The findings do point to evidence of malpractice in the conduct of public examinations involving a number of staff members across exam areas and assessment types."
"We do understand that pupils, parents and staff will be concerned by this and we wanted to assure you that we are proactively managing the situation."
"All necessary arrangements will be made to address the outcomes of the investigation."
Mr Hughes' letter does not specify which staff members were involved in the malpractice nor what sanctions they face.
It also does not give further details about the nature of the malpractice.
However, BBC News NI understands that no pupils exam results will be affected.
Protecting pupils
The exam awarding body rules state that they aim to protect pupils who, through no fault of their own, are caught up in teacher malpractice.
Mr Hughes' letter also said that the process of the appointment of a new principal to the school would begin shortly.
Jonathan Brady, the principal of St Killian's College Garron Tower and Liam Perry, the principal of St Columbanus' College in Bangor have been appointed to manage the school until the end of the current school year.
Summer exams
They will also oversee the forthcoming summer exams at St Patrick's.
Both are to take up their temporary posts on 1 May.
In a statement the Council for Catholic Maintained Schools (CCMS) said that the principals would: "work with the Board of Governors on a review of existing practice and with the development of a focused action plan and any arrangements necessary to ensure complete confidence in the upcoming round of examinations.