Omagh Street Safe scheme ends after five years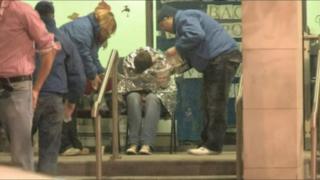 "We had put it as Darren's legacy - and it was kind of known as Darren's legacy."
Michelle McGirr was one of the first volunteers to sign up for the Omagh Street Safe scheme.
It was set up after her brother Darren McBrearty died in August 2013, seven months after another young man, Jason McGovern.
They died in separate one-punch incidents in Omagh.
The town's response was to create Omagh Street Safe, a team of volunteers to help people get home safely.
But, the scheme closed last month after it ran into problems in 2017.
Fermanagh and Omagh District Council asked volunteers to assume greater responsibility and to take on insurance liability.
When they refused, relations with the council broke down. The scheme closed soon after.
In the five years it had operated, the scheme's volunteers had become known as the Street Angels.
"When we were out, we'd have met Darren's friends and had a chinwag," Michelle said.
"You had the craic and you had the banter with them, but they knew the reasons for being there, they knew what you were there for."
The volunteers handed out warm drinks and water, and helped people in distress.
'Time-consuming'
This involved anything from supplying flip flops to someone wearing uncomfortable shoes, to administering first aid while waiting for an ambulance.
The scheme was set up in September 2013, with funding from the then Department of Social Development. After a period of training, the volunteers hit the streets that Halloween.
The initial funding expired in March 2016. Since then, Fermanagh and Omagh District Council, through the Policing and Community Safety Partnership, had been supplying administrative support and a co-ordinator when the volunteers were out.
They usually did two nights a week, Friday and Saturday from 23:00 to 03:00.
That was reduced to one night, Saturday, to ease the burden on the single member of council staff who ended up covering every night.
"The co-ordinator role is a very difficult one, very time-consuming," said Robert Gibson, the director of community, health and leisure for Fermanagh and Omagh District Council.
"The council was working with the volunteers to attempt to set up a different delivery mechanism and was offering to support the volunteers to get into a volunteer-led project."
But that would have entailed volunteers taking on the responsibility for insurance and that was not what the volunteers wanted.
"We volunteer in anti-social hours," said Kerry-Ann McMahon who, along with Michelle, was among the first group on the streets.
"We can volunteer that time, but to find the time to sit in board meetings and to be basically responsible for anything that would come in, say, if there was any insurance liability claim, as a director of the company we could be held responsible for that.
"Even though there's been no claims or allegations or anything like that in the four years we've been working.
"It's just not something that we're prepared to take on. We want to volunteer and we think that's enough."
Communication between the council and the volunteers broke down in late 2017.
At a meeting of the Regeneration and Community Committee in April, two options were presented - that the council would take on the co-ordination and administration of the role at a cost of £25,500 a year or that the scheme would close.
Committee members opted to close it.
'Big loss'
"The council couldn't step in because we couldn't maintain co-ordinators, as we saw from previous experience," said Mr Gibson.
"The council explained that on a number of occasions to the volunteers.
"The project is a safety project with regard to streets and the council doesn't have a direct responsibility for that."
Mr Gibson said a door had been left open for the scheme to return, but that another group would have to take on responsibility for running it.
In the meantime, the scheme has come to an end.
"It's a big loss to the town," said Michelle McGirr.
"It would be good to see it restarting, but I can't see it coming forth at this stage."