Rape case figures show low conviction rate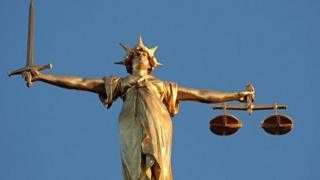 Less than a quarter of defendants charged with rape in NI during the year ending April 2017 were convicted.
Figures released by the Public Prosecution Service (PPS) reveal that 64 people were charged with the offence and 15 (23.4%) were convicted.
That compares to an overall conviction rate of 86.4% for all serious crimes.
PPS Senior Assistant Director Marianne O'Kane said rape conviction rates are historically low across all jurisdictions.
"Every rape case is different but they are all challenging to prosecute," she said.
'High bar for jury'
"The burden of proof is always on the prosecution to prove such allegations to a jury beyond all reasonable doubt.
"That is a high bar for a jury to reach, particularly when so many of these cases hinge on the issue of consent or the suspect's reasonable belief in consent.
"Although not essential to bring a prosecution, police and prosecutors will look for corroborating or supporting evidence which is often not available as alleged offences frequently take place in private and the complainant is the only witness."
The PPS said there had been a recorded rise in the number of files it received involving the offence of rape during the financial year 2016-2017.
It received 395 files from the police, an increase of 60 on the previous year.
There was also an increase in the number of cases involving all sexual offences.
The total for the year was 1,312 files, an increase of 5.4%.